I have never been one for the romantic comedy genre or even the even more droning dramedy genre.  In fact I will try and never use that term because Romance and Drama go hand in hand with one another.  I am not jaded in the least except for that one time I got dumped Freshman year in high school during debate class or that time I got dumped outside a movie theater (the worst place in the world to dump a movie lover), I just think that the genre itself is filled with the same fluff and thematic plot points that it all runs together, much like this sentence.
So why would I go see this movie?  Well it has Rashida Jones (who is just dead sexy) and Andy Samberg in an indie romance film that promises me at least a decent indie soundtrack and a few laughs.  I got all of that and some romance out of this film.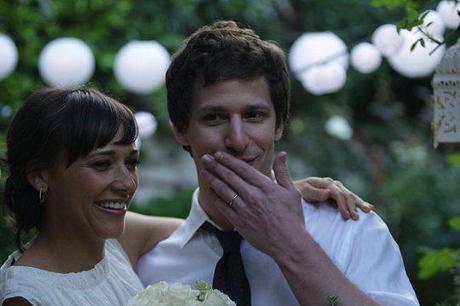 Celeste and Jesse Forever stars Rashida Jones and Andy Samberg as Celeste and Jesses, obviously, two lifelong friends who got married to one another.  It's the perfect romantic partnership, marrying your best friend and all seems wonderful with the two carrying on like a married couple.  That is until it is revealed that the touchy, romantic couple are actually in the midst of getting divorced and still carry on like a couple.  Their friends are weirded out by this fact and their story devolves into both of trying to move on with their lives as individuals, but wanting to retain that friendship.
Like most romantic films, the catalyst for their nuptials falling apart is due in part to Jesse's lack of career and motivation.  Seemingly a man child of sorts, he is the apparent anchor is Celeste's life as she is a working woman with a career and aspirations.  It isn't until the reveal that Jesse is moving on, piecing together a life with a woman he met during their divorce and the upcoming birth of a child, Celeste's life goes into a downward spiral as Jesse is moving on with a life that she wanted.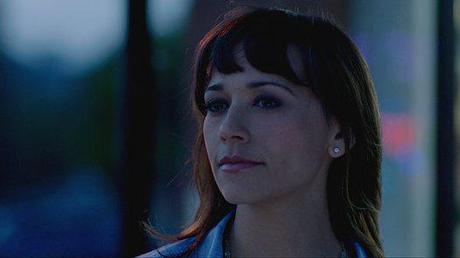 At times the film waivers between drama and comedy, often finding humor in the worst times of the characters lives, but Celeste and Jesse Forever finds that beautiful give and take with the story that is ultimately about Celeste and her personal struggles.  Rashida Jones is truly captivating, the approachable beauty in a film that allows us to connect with her struggles as she deals with the harsh, raw reality of living without that safe, co-dependent bubble she had with Jesse.  It rubs her the wrong way in seeing that Jesse's life is together and she is the one reeling from the revelations.  At times we love her characters, as Jones is truly a gifted actress and able to pull out emotional nuance from character.  There are other times when we want to hate her Celeste, not because she does terrible things, but because her flaws have a certain honest ring of truth that comes out during arguments between the title characters.  She is chided by others for wanting to be the person who comes out ahead in the breakup, more right than happy, which is truly the prison that she builds around herself.  That sort of vulnerable honesty is what makes this compelling, but often humorous as Rashida brings this breezy levity to her plight.
It's rare to see such an honest romance film that isn't all about the breaking up and getting back together of couples.  Or even for the faux, self empowerment that these type of films shovel at us to portray a strong character without any real honest development.  Jones is at the heart of this movie and while Celeste carries the most screen time, Samberg turns a fantastic performance as Jesse.  His character isn't given the proper coverage as he should have had since he is the scapegoat for the failure of the relationship, it might seem that he was being held back from developing as human.  He gets out of the relationship and grows, becoming a future dad and developing a bond with the mother to be.  Both play off of one another with their jokes and quibbles, selling us that they were honest best friends that have that hard time of letting the past go.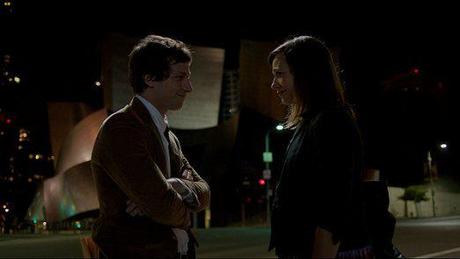 I ended up loving this movie a lot more than I thought I would.  Maybe it was the quirky nature of the film that drew me in or director Lee Toland Krieger's direction with a Rashida Jones written script.  Whatever the case may be, the Indie film filter that this movie is put through doesn't wash out what makes this a strong romantic story.  Where style and quirkiness would drown out the story and acting, we get a beautiful film that is honest with its comedic moments while drawing us in with pitch perfect acting from Jones and Samberg.  My complaints about the traditional trappings of romantic films does happen in this movie such as disastrous dates, moments of self deprecation, and the overwrought nature of awkward encounters, the movie manages to always fallback on the tight script from Jones and her delightful acting.
Rating: 4.5 BFF necklaces out of 5
*images via RottenTomatoes