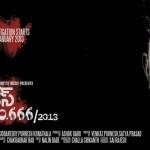 Story:
Three friends Bhaskar, Chaitanya and Durga upon the instigation of a recent acquaintance Eshwar plan to stay in a forest bungalow which is known to be very scary. On the way they meet Anand who is also going to the same forest area to shoot a documentary.
Do ghosts really exist and what is the secret of the bungalow and what happens to all the friends in the forest form the basic story of the film.
Performances:
There are primarily five characters in the film with three other supporting characters. The casting is alright as they suit the parts they do in terms of the look. But the acting part is mostly poor.
Only Durga and Anand manage to create some impression with their roles. Ehwar had a good role but its effect is undone by his poor act.
Positives:
Few thrilling portions in the forest in the second half
Negatives:
Climax
Unexciting beginning
Analysis:
The film had the potential because of its found footage genre taken. The film is exciting in few parts in its entire duration because of the effects of this genre. It brings in a new kind of experience/thrill but barring those few portions, mostly in the second half, the rest lack the energy. There are few funny moments in the first half which are fine but overall till about pre interval the film looks like any regular film despite the style used. In fact at times the over usage becomes a hindrance.
From interval the film gains momentum and it is maintained well till about pre climax in the second half. By this we mean the found footage style is properly used in these portions and it does manage to create the excitement.
However the climax is a big downer and dilutes the effect of all that's happened preceding it. Acting is a big part of this let down but leaving aside that fact even the sudden shift in tone of the film is jarring.
Direction by debutant Venkat Siddareddy and Purnesh Konathala is good, in that they did all they could with the resources available. They could have exploited the genre further but miss the opportunity on that front. But leaving aside the acting aspects technically they got the style right with the right usage of camera angles. This is very crucial in films of this genre and they got this aspect right mostly. The problem is sometimes they have overused it without having any effect, especially in the first half. With better material and actors there is surely a hope for better output and we wish them all best for future.
Editing is not up-to the mark. Lip sync was missing at many moments in the film. Cinematography is good in parts. Background music is alright.

Bottom-line: The case is interesting in flashes
Rating – N/A