Being touted as the dream project of actor-producer Saif Ali Khan, Agent Vinod is a spy film directed by Sriram Raghavan, who earlier made a very thrilling Ek Hasina Thi and Johnny Gaddar. Read on to find how our Bollywood's James Bond fared.
Plot:
We have few disconnected events. 1) The very suave Vinod (Saif Ali Khan) is a secret agent with Research and Analysis Wing (RAW), who escapes from an Afghan village after his identity is revealed to a terror group. 2) Meanwhile, news is spread around the globe about the probable existence of a one of its kind hugely effective nuclear weapon. 3) A while later we're taken to a local train in Moscow, where Rajan (Ravi Kissen), another RAW agent, is killed after being caught spying on Abu Nazer (Ram Kapoor), a drug lord.  Minutes before his death, Rajan leaves a video to RAW in which he reveals that a code '242′ has been used repeatedly by Abu Nazer.
The rest is about Agent Vinod finding what is 242.
Analysis:
Initially the movie is very confusing with few irrelevant events happening simultaneously. To add to it, you're introduced to too many characters and none seems to actually know why they're here. Most of theirs job was to get killed by gunshots. There are a series of twists, but they weren't good enough to spice up the movie watching experience. Half way through, you'll know where the movie is going.
But, even through all the uncertainty, the director manages to entertain you with humor here and there, thereby preventing you from walking out of the cinema. Timely old classics in the background were a true pleasure. The slow paced climax was beautiful. An appreciable thing is that never the movie gets overly dramatic or emotional like most of our Bollywood movies do.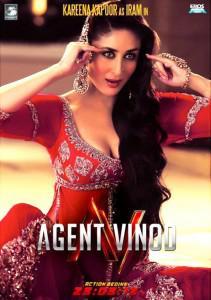 The director fails in shaping the characters well, especially that of Kareena. She's a doc, an informer, slips into mujra pointlessly, cries about her past and dreams about a future. But, at the end of the day she does what most of the leading ladies do – act as an arm candy to the leading man. It would have been a pleasure to see her doing some action rather than just standing, running or crying. When it comes to performance, the movie belongs to Saif Ali Khan.
The movie scores well on style and sleekness. At times the screenplay is well paced and then it fells flat abruptly. Action sequences were pitiable. Such spy thrillers demand swiftness and intelligence in the action part and Agent Vinod fails miserably here. Music was pleasing. Background score was apt. Classical drumbeats in a chase-run sequence was a good surprise. 'Kuch toh hai tujhse Raabta' was beautiful.
Cinematography was great and so was the choice of locations. Also, you are taken to cities like Afghanistan, Moscow, Morocco, Somalia, New Delhi, London, Karachi and the list goes. I must admit, Agent Vinod is a great guy to hop through so many cities tirelessly!
Final word
Not racy enough for a thriller. You might like it if you stay patient for a while and don't look for any logic. I'll go with 2.5 out of 5.
Find Harsha on Facebook and Twitter