Back when I used to bartend in college, I would find myself with some downtime during the really slow days of slinging drinks.  In order to pass the time between stocking, cleaning, and waiting for customers, I would end up playing crossword puzzles because why the hell not.  Now our local paper didn't really  offer a lot of challenges because it was a small farming town with a good college and it all related to farming things and maybe a few brain busters.  So I usually got excited when I was able to get a New York Times and feel slightly hoity toity with my NY Times crossword puzzle.  I do find those strangely satisfying to do.  Anyways, today's movie is about crossword enthusiasts and editor of the NY Times puzzle Will Shortz.  It's a fun look at the world of crossword puzzles and those that rack their brains trying to complete them.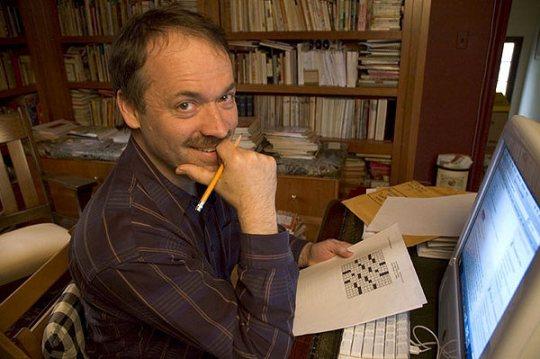 Cinematographer-turned-documentary filmmaker Patrick Creadon takes a compelling look at the brainy world of crossword puzzles, the masterminds that conceive them, and the folks who struggle to solve them in a film that offers a close look at one of America's most popular pastimes. For 12 years, the name Will Shortz has been indelibly linked to the wildly popular New York Times crossword puzzle. As filmmakers speak with Shortz and the puzzle constructors with whom he collaborates, viewers are treated to a rare look into the minds of the people whose intellect entertains a nation of puzzle-solvers on a weekly basis. Interviews with a variety of celebrity crossword-puzzle enthusiasts including Bob Dole, Ken Burns, and Jon Stewart are also included, and a trip to the American Crossword Puzzle Tournament — an annual event founded by Shortz himself — offers an entertaining look at a world where the brain power and colorful personalities of contestants combine to create a lively atmosphere of friendly competition. ~ Jason Buchanan, Rovi
I love these sort of quirky documentaries, ones where you don't expect a subject about crossword puzzles to turn into this suspenseful and engaging documentary.  Wordplay is certainly a specific subject about a solitary hobby, but the documentary makes it seem a lot bigger, almost this interconnected, worldly act that millions of people take part in.  It might not have specific subjects, other than Will Shortz, but its about the groups of people that enjoy racking their brains on some difficult clues to complete their daily crossword puzzle.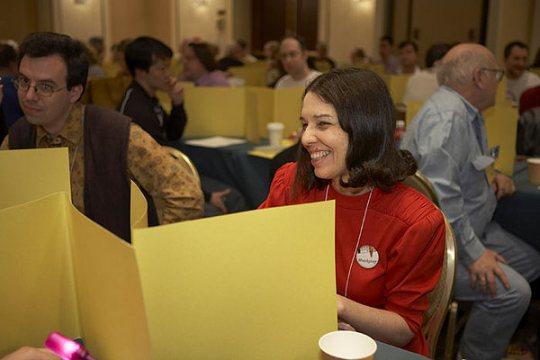 Wordplay is fun documentary that manages to add in some suspense and drama at the annual American Crossword Puzzle Tournament, which I never realized existed, and you watch some of the most enthusiastic and dedicated word smiths try to finish one of the most difficult puzzles out there.  It's great to see this little subculture of solitary players coming together and doing crosswords in public, all the while Shortz is there reveling in what he has created/edited.  The celebrity personalities are there because, hey they are people as well and its interesting to hear why they do the puzzle every time.
Overall this is a fun documentary that dives into the culture of those that are addicted to this brain scratcher of a puzzle.  Those that play it are devoted to testing their brain power and then there is the surprising tournament that ends up becoming this suspenseful and tense moment in the documentary.  All this for a puzzle where you fill in the blanks with the appropriate clues.