Folks, that right there is the opening scene from a 1988 movie that I had the pleasure of watching on VHS yesterday at fellow blogger Luke Physioc's house.  I was stunned, elated, and astonished at what I saw that evening.  A movie that somehow defies the genre of action, comedy, drama and just about everything else you could imagine.  A movie in which the lead actor's real name is Shadoe Stevens.  Yeah you might be thinking that is the characters name cause it sounds like a name from a Steven Seagal flick, but it is a real live human beings name.  The movie folks, is almost indescribable.  That movie only goes by the name…Traxx.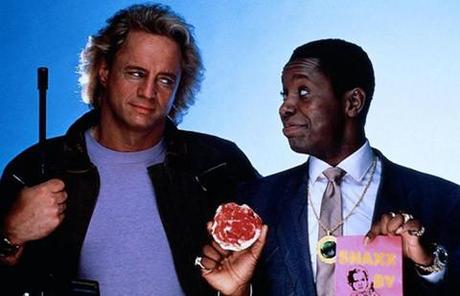 This comical adventure pokes fun at Rambo as it chronicles the exploits of Traxx, a Texas Highway patrolman who leaves the state police to become a soldier-of-fortune in Hadleyville where he gets into baking funky cookies and working as a sort of town bouncer helping to clean up the burg. While there he and the Mayor, Alexandria Cray have a passionate affair. Real trouble comes to town in the form of the fearsome Uzi-toting Guzik brothers who have come to throw the do-gooder out. To draw him out, the nefarious brothers kidnap the town Little League team. ~ Sandra Brennan, Rovi
I wasn't for certain if this movie was some sort of subversively brilliant parody of the machismo that permeated action films in the 80s or if this was a serious action movie.  All I know is that this movie is utterly amazing in every way possible.  Whether it truly is this mix of serious/comedic talents, then they did a fucking amazing job cause I was beside myself in fits of laughter watching Traxx taking care of business in the most audacious way possible.  A veritable plethora of over the top action tropes and a hero that is about as ridiculous as the town he is cleaning up, it is filled with so many amazing moments of comedy.
Folks, I honestly can't say anything else about this movie other than to leave you all with a small, itty bitty taste of the film itself in this "best of Traxx" compilation.  I assure you, the movie is even better than the scenes presented.