Nothing like an oddball sports movie to lift the spirits after a rather dismal performance for the Kansas City Chiefs.  I attended the home opening game a few hours ago and while not the biggest sports fan, I do enjoy the atmosphere of Bros and fist bumps in celebration of our teams achievements.  Well to cheer up the woes for all football fans whose teams might have tasted defeat, today I am taking a quick look at The Replacements.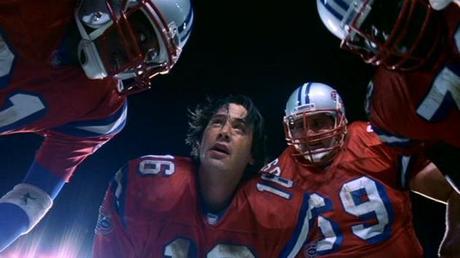 The 1987 National Football League players' strike inspired this sports-themed comedy. The Washington Sentinels are one of the strongest teams in pro football — until contract negotiations break down and the Sentinels go on strike. Determined to play the team's schedule, owner Edward O'Neil (Jack Warden) recruits a ragtag band of scab players, to be headed up and whipped into shape by the retired veteran coach Jimmy McGinty (Gene Hackman). At the top of the recruitment list is quarterback Shane Falco (Keanu Reeves), a promising athlete until a catastrophic defeat in the Sugar Bowl dashed his confidence. Joining Falco on the team are Clifford Franklin (Orlando Jones), a receiver who can't catch the ball; Nigel Gruff (Rhys Ifans), a chain-smoking Welsh soccer player; Bateman (Jon Favreau), a former cop with anger management problems; Fumiko (Ace Yonamine), a sumo wrestler new to football; and Wilkinson (Michael Jace), a convict on parole to the Sentinels. Can McGinty mold his new squad of misfits and no-hopers (who truly love the game) into a winning team? Brooke Langton plays Annabelle, head of the Sentinels' cheerleading squad (who has to contend with replacements of her own), and football commentators John Madden and Pat Summerall appear as themselves. ~ Mark Deming, Rovi
I love nothing more than ensemble films.  I love seeing different actors come together and deal with each others style and acting.  Sometimes you get dramatic, action, comedic or character actors together and the results that happen with the film.  Sports ensemble movies are one of the genres that usually produces fun results and not the overly serious tones that sports movies usually play up.  Don't get me wrong in that I don't enjoy the more serious, philosophical tones of some sports movies that showcase the mentality of the players and the love of the game.  I just like to be entertained and laugh when I watch a sports movie.  The Replacements brings together a lot of different types of actors from all facets of the acting world and ends up making this rag tag casting work very well.  It all comes together like the team does in the movie and it's a fun watch.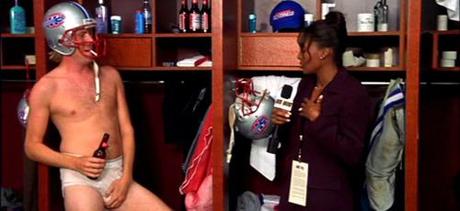 It's hard not to like The Replacements.  The movie is pretty straightforward with the story and it's more the characters that make up the enjoyment of the movie.  Like all ensemble character pieces, the characters themselves are more portrayed as a trait rather then a developed character.  They are built up upon this one trait or event that defines the character themselves.  Reeves plays Falco, a former college quarterback who was set to go pro until a terrible bowl game and then crashing confidence.  That ends up being his redemption story in the film, another chance for glory.  Orlando Jones is Clifford Franklin, a former receiver who just can't catch and then Rhys Ifans as Nigel Gruff, a premier soccer player who is the rough talking kicker.  All the other players fall into some character type, but it all just works as a cohesive group.  Very enjoyable to watch each personality trait collide and then eventually get along in the end.
For me, Gene Hackman is always enjoyable to watch.  While I really liked Keanu Reeves in this movie for his affable mentality and charm, Hackman always steals the scene with his presence.  While not playing a coach like he does in Hoosiers, this coach is exactly like his scab players, people getting a second chance at something big.  He exudes this tough father figure, but also wise old sage of football and life lessons.
Overall The Replacements is just a great sports movie that has a lot of heart and manages to be all around enjoyable.  I will usually watch this anytime it comes on TV since it delivers good sports scenes mixed with that gridiron humor I enjoy.  If you haven't seen it, it's worth a look if nothing more than for a laugh.