This is really a love it or leave it sort of film.  I have shown this film to a handful of people and they the split amongst them is apparent.  I do agree that The Foot Fist Way is really kind of abrasive and something you either get right away or just think it is a failed attempt at a raucous comedy.  For me, if you like East Bound and Down and flat out enjoy anything that Danny McBride does in the film world, The Foot Fist Way is the only way to true enjoyment.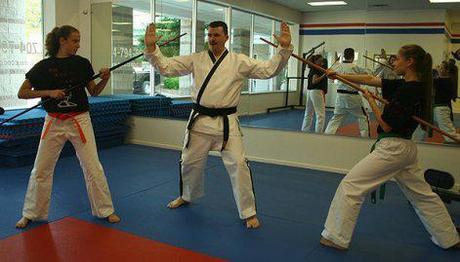 Fred Simmons is one of the world's most gifted practitioners of the Korean fighting style known as Taekwondo — or at least that's what he likes to tell people. Despite his supposed skills, Fred teaches students out of a shabby dojo, where for the most part, he browbeats kids into learning the aggressive points of the martial arts without having much understanding of the philosophy or reasoning behind it. Not that most folks care — in the small town where he teaches, Fred is considered to be the real deal, and his talent as a fighter earns him plenty of respect. But Fred's reputation (and ego) takes a serious blow when he learns his wife, Suzie (Mary Jane Bostic), has been fooling around with another man, and Fred challenges him to a fight that doesn't go well. Falling into an emotional tailspin, Fred goes on a pilgrimage to meet his hero and role model, martial arts celebrity Chuck "The Truck" Wallace (Ben Best). ~ Mark Deming, Rovi
The Foot Fist Way isn't the typical indie comedy that most movie goers would come to expect.  There isn't some quirky indie soundtrack, tight minimalistic framing or even the sort of eccentric characters that only inhabit the digital frame of indie flicks.  This film is rough around the edges, the humor is scathing and the lead is not the traditional hero type we want to see.  Those are all the things that make this film work.  The comedy is irreverent and almost manic, but when done in small bursts, the roughness of the characters and slightly tinged dark humor just go so well.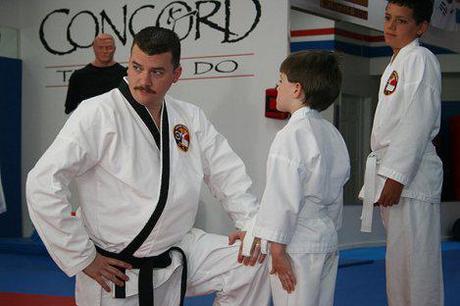 Danny McBride is fantastic as Fred Simmons, the sort of character you expect him to play in a lot of his movie and even has a few parallels to his alter on East Bound and Down, Kenny Powers.  His character is the opposite of the typically calm and disciplined Taekwondo master, opting for berating his students and pushing the supposedly lethality of his skills onto them.  There is nothing honed or trained about his character other than the crassness of his remarks and bitching attitude.  For me, it makes the comedy and characterizations funnier along with pushing along a sort of damaged, character story that Simmons embarks on.
I think a lot of people might be expecting a film that is all jokes from start to finish and irresistibly quotable.  Well, that is not what the movie is like, but there are a lot snark jokes mixed into the proceedings.  I enjoyed this movie a lot, mainly because it projected the persona of what I imagine those strip mall martial arts teachers are like.  It shows in McBride's acting that he has this constant chip on his shoulder and delusions of a dreams that are outside of his reach.  He isn't the most impressive Taekwondo master, which does add to some of the comedy.  But it is the delivery of the lines, the rough, undisciplined dark humor that makes The Foot Fist Way stand out from the pack of indie comedies that rely on quirk and sass to get through the film.
*images via RottenTomatoes