Tomorrow night, I will be taking part in the KC Alamo Drafthouse Van Damme marathon that will culminate with the showing of The Expendables 2.  While I should do a post over a Van Damme movie, I feel that going back to the action packed, slightly disappointing, testosterone flick The Expendables is a good way to get prepped for tomorrow's showing.  This is pretty much the stuff of dreams.  A penthouse forum letter, published in Soldier of Fortune magazine and made into a reality.  Hit the jump for some Expendables love.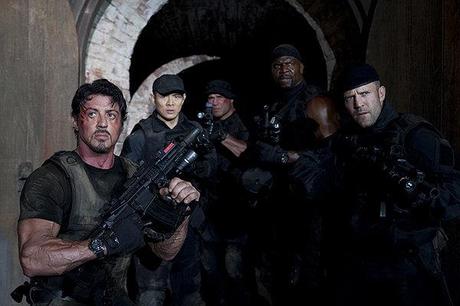 An all-star cast of action-movie icons headline Sylvester Stallone's explosive action thriller about a group of hard-nosed mercenaries who are double-crossed during a treacherous mission. Approached by the shadowy Church (Bruce Willis) to overthrow tyrannical South American dictator General Gaza (David Zayas) and restore order to the troubled island country of Vilena, stoic soldier of fortune Barney Ross (Stallone) rounds up an unstoppable team that includes former SAS soldier and blade specialist Lee Christmas (Jason Statham); martial arts expert Yin (Jet Li); trigger-happy Hale Caesar (Terry Crews); and cerebral demolitions expert Toll Road (Randy Couture). Traveling to Vilena on a reconnaissance mission with his old pal Christmas, Barney meets their local contact, a cagey guerrilla fighter named Sandra (Giselle Itie), and together the trio scopes out the landscape.. It isn't long before Barney and Christmas have discovered that their actual target is not General Gaza but James Monroe (Eric Roberts), a former CIA operative who has recently gone rogue. Monroe won't be easy to get to either, because his hulking bodyguard Paine (Steve Austin) is a force to be reckoned with. When their mission is compromised, Barney and Christmas are forced to flee, leaving Sandra behind to face almost certain death. But Barney isn't the kind of soldier to abandon a mission, or a hostage, and now in order to get the job done he'll need the help of his old crew. ~ Jason Buchanan, Rovi
Christ the plot synopsis is like 20 sentences longer than it should be.  Check it, cast of action stars from years past and current ones are sent on a suicide mission to overthrow from dictator and his army in the most grandiose and violent way possible.  Done and done.  That is about the depth and level of insight you will get into a movie whose action stars are the Mount Rushmore of action film tropes.  I will say, I am a bit giddy as a action film fan that all this talent got together to share in the most masculine dream movie possible.  The sad thing is though, the acting talent isn't necessarily there and the movie had some shortcomings.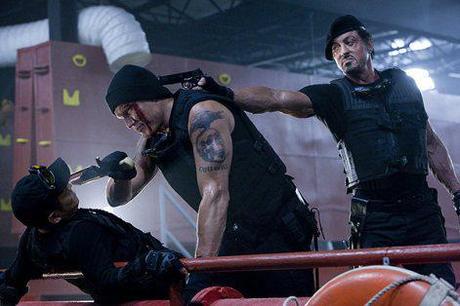 First, if you have a movie called The Expendables and no one dies, then it isn't really The Expendables.  I get that you want to stroke your fans to excitement, but come on man.  It's only Dolph who was going bye bye.  Anyways, the other gripe I have is that the blood was digital.  What the fuck?  You already have an R rating, just fucking bring a tanker of fake blood out to the sets and let it loose.  That is what made the 80s action films amazing, the gratuitous use of blood and violence.  Sad that they didn't go all the way through with the setup.
Aside from those gripes, I still found some enjoyment out of the mess of this film.  One person in particular, Terry Crews.  Give that man his own spin-off where he is just running around knifing dudes and shooting automatic shotguns for like 2 hours and call it good.  He is the only person in the group with a lively personality that seemed to enjoy being there.  I will also extend some goodwill to the Stath and Jet for their contributions to the craft.
The Expendables is just a wanton,  carnage filled good time.  I get it didn't live up to the expectations of the purists in the action film community, but the fact that all our childhood idols of the bullet screen came together for a movie is damn near awesome.  So awesome in fact that the sequel is coming closer to reality and the reviews are looking alright so far.  Then again, I only go to see things get shot and exploded in a movie like this.
*images via RottenTomatoes