Everybody get up it's time to slam now
We got a real jam goin' down
Welcome to the Space Jam
Here's your chance, do your dance at the Space Jam
Alright….
Thank you Quad City DJ's for getting me up and getting me ready for the Space Jam.  1996 was one of the top years in my life.  I was coasting through life and seemingly innocent in my ways.  I thought that it couldn't get better until I saw the above trailer for what would end up being one of the greatest sports film in the history of cinema.  At the age of 11, I was pretty confident about that assertion, I mean who was going to crush the hopes and dreams of a little kid?  Assholes Nick, assholes were going to ruin your fun.  You couldn't meet a teen or kid or whatever who wasn't basically losing their collective shit when two of the greatest things in the world were coming together in one movie that would essentially be the encapsulation of the 90s, Bill Murray and Basketball.  Shit yes.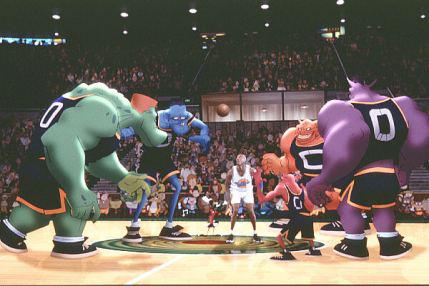 Magic Mike, MJ (the better one), Michael Jordan was pretty much the shit in the 90s.  He was winning titles, converting hordes of fans into bandwagon Bull's followers and he seemed like he could float on air with them sweet kicks and eating Wheaties.  What could make his popularity soar even more?  Leaving the game and playing minor league baseball.  Sure it all seems well and good for the King of the Courts, that is until the Looney Tune gang needs his help to play in an intergalactic basketball game against super mutant, talent stealing aliens known as the Monstars.  They were playing for more than the enslavement of the Looney Tunes, they were playing to win back the talent of some of Earth's greatest basketball stars so they could get one more season in and retire or become sports analysts or something.
That is pretty much the plot of Space Jam and surprisingly, I remembered enough of it to cobble together a slightly coherent story synopsis.  Personally, I didn't care about the story, I just cared about seeing MJ, Bill Murray, and to a lesser extent, Wayne Knight play some basketball with the Looney Tune gang.  I am pretty certain that I went to Space Jam themed birthday parties were kids hilariously tried to be like Mike and face planted on the ground after a failed dunk.  Those were the memories I had about this movie.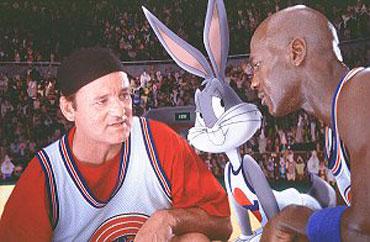 It was the ultimate kids movie.  I mean who doesn't like Looney Tunes?  Who doesn't like Michael Jordan?  Maybe you are one of the few who resented the fact that MJ beat Larry Bird in a game of horse in that McDonald's commercial.  Whatever the reason, you couldn't deny that this was an amazing movie.  It had comedy, animation, sports, soon to follow commercialization of the movie and all the screen printed tees of Bugs Bunny playing basketball that you could scrounge together lawn mowing money for.  The one thing that I admired more than the film itself, was basically the single best soundtrack I have ever heard.
Let me list off some of the artists that seemed to come together for this album:  Coolio, Seal (singing a song that isn't Kiss From a Rose), R. Kelly (before he peed on that girl), Method Man, B-Real (Cypress Hill), Busta Rhymes, LL Cool J, Barry White, and Biz Markie.  What the fuck!  This is for a kids albums and they managed to get all these artists together for a Looney Tunes movie soundtrack.  This was the album you played to psyche yourself up before you played rec league basketball on the weekends (juice boxes were the shit).  This is like our Jock Jams album, but without you having to admit you bought a Jock Jams album.
Frankly this movie had it all for me in 1996 and it still does.  The soundtrack rocks, the movie rocks, Jordan rocks, Bugs rocks, Wayne Knight doesn't rock and Bill Fucking Murray rocks.