The only reason I am posting about this movie today is because the ending to Sleepaway Camp is just frightening.  Also because this movie just so happens to be sort of, in a roundabout way, the inspiration to Wet Hot American Summer.  That has to count for something in my book since that movie is fucking awesome.  I digress, Sleepaway Camp for me will only be remembered for being terribly bad, but that ending, my god that ending.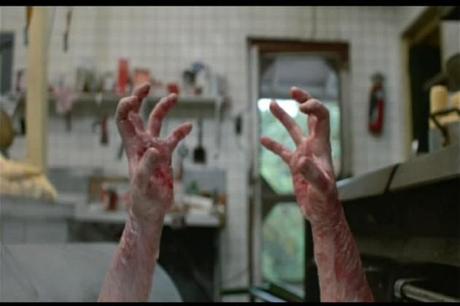 A deadly boating accident derails the life of a sensitive youngster, leading to confusion, madness and murder. Years after the incident, Angela (Felissa Rose) is still withdrawn and rarely speaks, living a sheltered life with her aunt and cousin Ricky (Jonathan Tiersten). The two young teens are sent off to Camp Arawak to spend the summer, and though Ricky attends every year and has plenty of friends, Angela is unable to fit in and finds herself the target of cruel taunts from her bunkmates. Her cousin is always ready to stick up for her, and she begins a timid romance with Ricky's best friend Paul (Christopher Collet), but it isn't enough to stop the abuse from their fellow campers. Soon a series of fatal accidents is plaguing Camp Arawak; a pedophilic cook is scalded alive, a practical joker drowns mysteriously and the boys' restroom becomes the scene of a horrific bee swarm attack. The campers are fleeing in droves, and the few who remain begin suspecting foul play. But who is the killer? The camp's owner (Mike Kellin) believes that the killings are only meant to ruin his business, and he's convinced that the hot-tempered Ricky is to blame. When the evening of the camp social arrives, it proves to be the bloodiest night of all, and a terrible secret is revealed in a bizarre confrontation on the beach. ~ Fred Beldin, Rovi
I had to go back and see what critics said about Sleepaway Camp when it was released.  Surprisingly, everyone was critical about this typical summer camp slasher movie, but the ending itself is what lingers amongst all the reviews as being the thing that they can never forget.  I wholeheartedly agree with their reviews and even my first and second viewing of the movie solidified that finale in my mind forever.  I want to talk about the ending so much cause everything else about the movie is so by the numbers in terms of the kills and shitty acting.  But just go out and watch this on Youtube.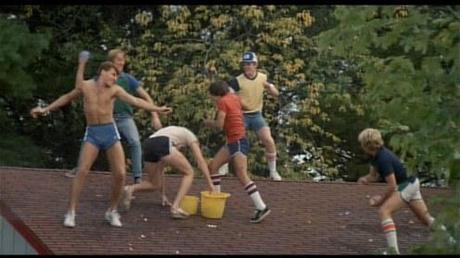 The best way to describe Sleepaway Camp is that it's the camp that you would get sent to if Camp Crystal Lake was all full up with people waiting to be offed by Jason or Mrs. Voorhees.  The kills are just what you expect with lots of scares and the typical hand reaching into the foreground before it grabs a person from the killer pov.  Shit like that.  It's run of the mill terror elements but again, it is all forgiven when that ending comes up.
The whole movie, up until the end, is just so unintentionally comedic.  You have a camp where the counselors are somewhat actively trying to fuck the campers and being all sorts of creepy.  The story line tries to be unique, but it ends up being needlessly complicated.  The acting, shit, there is none to speak of.  If there is moments of acting, it is over the top and comes off creepy or just funny.
Surprisingly, this movie spawned a bunch of sequels, but none will compare to this z-grade horror movie with the best ending ever.  Prepare to have your dreams haunted.