We've all been on some company outings/team strengthening exercises/what ever companies think helps strengthen team morale.  So if you saw the trailer, then I can assume you have experienced (not the murder and death stuff) the dread of having to be isolated with people you work with.  Don't get me wrong, I love the people I work with, I just wouldn't be doing trust falls around them.  Companies take note, we like to bond with our workmates over booze and probably more booze.  Fact of life.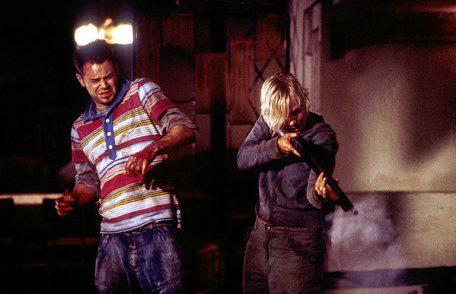 Palisade Defense isn't just the leading supplier of weaponry for the war on terror, it's a company that truly cares about its employees. When the Palisade Defense's European sales division exceeds expectations, the president decides that his dedicated employees deserve a relaxing corporate team-building retreat. The trip takes a turn for the worst, however, when a deadly enemy infiltrates the retreat with the singular goal of ensuring that no one gets out alive. ~ Jason Buchanan, Rovi
If you like The Office and cheesy horror films, this will be a good movie for you to see.  I have talked to other people who have seen the flick, but none were overtly impressed.  I will admit, some of the film seems a bit forced, but the overall comedic element and dry, British wit has a nice zing that reminds me a lot of Shaun of the Dead, although not nearly as great as that film.
Severance plays out like a version of the British Office series and all the players have a certain character type they play.   While each fulfill a certain need, their chiding and playful natures all lend to a good rhythm of comedy and fear once the shit hits the fan.  Once the horror and survival element takes hold, well, it gets pretty gruesome and dark comedic elements shine. Characters get sardonic, a lot of female skin is shown as it lampoons the whole genre of "hunt and kill" horror movies and snappy comments are stamped by a gruesome violent act.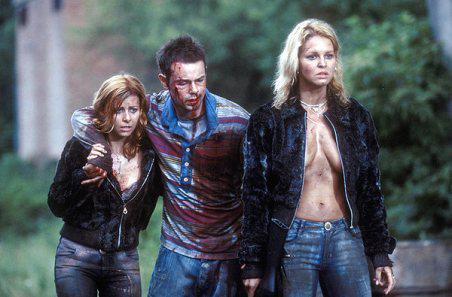 Shameless partial nudity picture...which is good
I can't really write a whole lot about this film.  I mean if you have ever seen movies like Black Sheep, the killer sheep film, or even Shaun of the Dead, you will find some enjoyment out of this.  The horror and gore are a bit creative, often a bit more visceral than expected, but the survival aspects and dark comedy are good bits to lighten up the situation.  For horror fans, you will get some good solid gore and kills.  For those looking for a more Shaun of the Dead lean, eh you won't get that but a nice chuckle out of the film.  Some will see this as a "meh" film but I enjoy it for what it is.
So think about you next team outing and how bad it can get.  If you work for a Defense company, this may happen to you.  If you work a more blue collar job, I would worry about running into the Defense companies team outing and the chaos that ensues.
*images via RottenTomatoes