It's Mother's Day and today is a day in which you should be spending time with your dearest mother and cherishing all the time she given to mold you into the person you are today.  I love my mom and all the work and love she has given to raise into the person I am today.  Not sure how proud she is my spending my time writing on a movie blog that I don't get paid for (someday ma, someday), but I know she would do anything for me to be happy.  So while she getting gifts, funny cards and having our families adoration showered upon her on this special day, today's post is about a movie in which the mother will do anything to keep her family happy, even becoming a murderous serial killer in a picture perfect suburbia.
Happy Mother's Day everyone!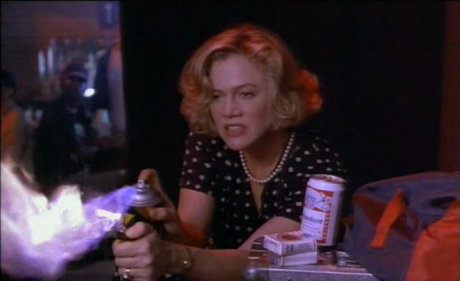 Beverly Sutphin (Kathleen Turner) is the perfect suburban housewife and mother. She likes to cook, her home is immaculately clean, she's always well-groomed and cheerful, and she loves her husband Eugene (Sam Waterston) and her two children, Misty (Ricki Lake) and Chip (Matthew Lillard). There's just one problem with Beverly — if you do anything to make someone in her family feel bad, you're dead meat on a stick. While she does a great job of hiding it, Beverly has a vicious and vengeful streak, and when she's not making obscene prank calls to the neighbors or bribing her garbagemen to save embarrassing items from her neighbors' trash, she's mowing down whoever would be so rude as to make her husband go into his office on a Saturday, break up with her daughter, or suggest that her son watches too many horror movies. ~ Mark Deming, Rovi
Oh how delightfully evil it is for Director John Waters to come back to the R-rated territory that we love so much.  Don't get me wrong, his more tamer  PG-13 films are ok, but there is something wonderful about seeing him being able to just go for it when the ratings are higher and more mature.  Serial Mom is a fantastic film from Waters, lovingly sniping at the traditional family structure of life in suburbia with a methodical and psychotic twist on the horror genre.  This is a horror film folks, cause I am pretty sure this has enough killing in it to make it a top contender with other horror films.  There is certain, unsettling aspect to the movie that sits with you as watch the picture perfect mother of a household go from cleaving a man skull in two and then baking you cookies.  What a good mom.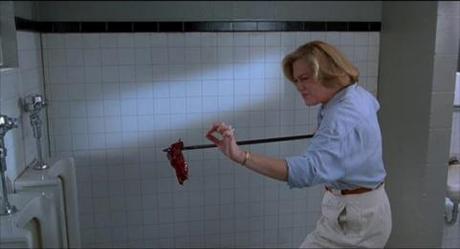 Kathleen Turner is perfect in this role.  The way she is able to keep a smile on her face while running down people her car or stalking a boy who stood up her daughter is almost as eerie as her ability to just play it all off while making suburban house wife jokes.  It's this manic personality and dichotomy between the person she is with her family and then the murderous, domestic Jason-like killer that sells the movie for me.  A person with so much love for her family that killing for them is almost second nature, that is a good mom and Turner sells that aspect of the movie in the most absurd way possible.
If you have never see this movie, it's a treat believe me.  It's kind of campy, kind of horrific, but all sorts of fun to watch.  Waters had a nice return to form with his R-rated comedy/horror movie, lampooning the ideal of the suburban setting as being normal as it can get.  Kathleen Turner is a monster in this film, but also a sweet and caring mother who does what she does out of love.  That is something we can all appreciate.