If you came here hoping to read about Predator, the classic action movie of 1987, well I already did that review which you can read here.  This review/post will be about the 2010 film that seemingly convinced me that Adrien Brody is not to be fucked with cause holy hell, he was pretty buff and convincing.  Yes the man who played the pianist is staring in an action movie where Predators, multiple predators, set up the equivalent of a rich man's game preserve to hunt down some of the most ruthless and dangerous game around….humans.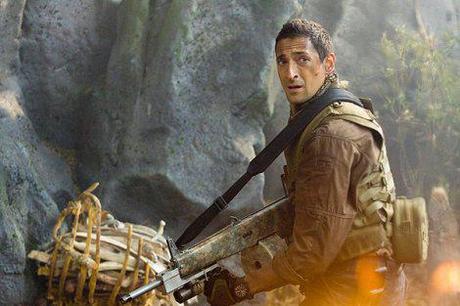 Mercenaries, murderers, gangsters, and convicts, they were the most feared men on Earth. But now they're a long way from home, and when the predators become the prey, fearless mercenary Royce (Adrien Brody) prepares for the fight of his life. And he's not alone, because Mexican gangster Cuchillo (Danny Trejo), Israeli Defense Forces veteran Isabelle (Alice Braga), notorious mass murderer Stans (Walton Goggins), Russian Special Forces operative Nikolai (Oleg Taktarov), RUF death squad member Mombasa (Mahershalalhashbaz Ali), and sword-wielding Yakuza Hanzo (Louis Ozawa Changchien) are all armed to the teeth, and out for blood. The odd man out is Edwin (Topher Grace), a once-prominent physician whose career came to an end following a big scandal. When the motley crew encounters Noland (Laurence Fishburne), a resourceful human who has somehow managed to survive on the alien's hunting grounds for some time, they prepare to take the ultimate stand against the most powerful Predators yet. ~ Jason Buchanan, Rovi
Say what you want about the story and the franchise, but I love me some Predators.  This isn't really a guilty pleasure of a film, in fact it is a solid action film that does an amazing job at capturing the essence of the predator series, while bringing something new to the table.  I can understand that some people might see this as a retread of the first film and the fact that they are set in the jungle, feature a group of people being hunted and feature a showcase that is reminiscent of the final scene of the first movie.  Actually now that I think of it, it seems like a re-imagining of the first movie.  But did the first movie have multiple predators and Topher Grace?  I thought so.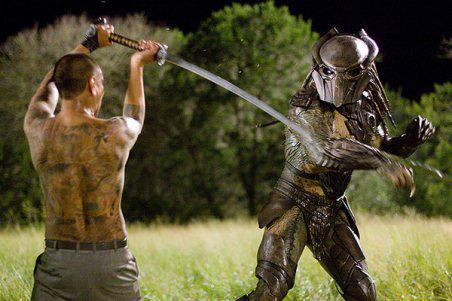 I think the thing that will surprise people if they didn't rush out and see this day one, is that Adrien Brody can be a convincing action star.  The man is pretty fucking ripped in this film and can brood like no one else can in a role that has him play a mysterious mercenary.  The whole cast of killers, soldiers, and doctors are prefect for this film, albeit they have a truncated back story which is only explored in the special features of the DVD.  Each character though is about as distinctive and diverse as those Benetton ads from the 80s.  You got a gangster, yakuza, death row inmate, assorted military and black ops.  Kind of the whole action movie world compressed into one movie.
The story of the film is about as generic as it can get while including a few winks and nods to the Predator universe and cannon.  It's nothing groundbreaking, but then again I wasn't expecting something that would be mind blowing story wise.  Instead I get satisfying action sequences, interesting characters (to a degree) and a nice nostalgia trip.  Brody is damn impressive in the film, the multiple predator angle is a good touch and adds a bit more variety and with Rodriguez producing and Antal directing, you get a fairly competent film.  It's no Arnold, bicep flexing film, but Predators is a solid action film.
*images via RottenTomatoes