Being a nerd and loving science fiction is pretty much the same as liking PB&J sandwiches.  The two items are mutually exclusive, even if some nerds have a much bigger affinity for the genre than others.  So when science fiction movies comes along, I get a bit giddy as I love the genre and love being transported in a world unlike any other.  What I like more about sci-fi, is when I see little nerdy references to other sci-fi films in a particular movie or television show.  It somehow gives me the validation of knowing and recognizing the callbacks or jokes from the countless hours of movie and television show watching.  It sounds nerdy, but I have already admitted to that. So you can imagine how I felt when I first laid eyes upon the trailer for Paul.  A trailer for a film that seemingly was made for me and those like me, I got excited for this movie immediately and with the same fervor that I had when I first watched Blade Runner, which is the only time you will ever hear that sort of comparison.
Two average sci-fi geeks get caught up in the ultimate interplanetary adventure after picking up an extraterrestrial during a road trip to Area 51 and becoming the targets of a nationwide manhunt. Graeme (Simon Pegg) and Clive (Nick Frost) are two British sci-fi geeks on holiday in America. After a trip to Comic-Con to meet their favorite author, Adam Shadowchild (Jeffrey Tambor), Graeme and Clive load up their RV and hit the road for a tour of some of the most famous UFO hotspots in the American Southwest. They know we're not alone in the universe, but they won't be satisfied until they get a firsthand glimpse of the famed Area 51. However, somewhere deep in the Nevada desert, the two UFO enthusiasts narrowly avoid crashing into a speeding car when they happen across a most unlikely hitchhiker. Paul (voice of Seth Rogan) is a pint-sized alien who has spent the last 60 years in Area 51. He's been cooped up in the care of the U.S. Government for far too long, and he's starting to get a little homesick. Though Graeme and Clive are more than willing to help their wisecracking new friend get back to his mother ship, Special Agent Zoil (Jason Bateman) of the FBI is closing in fast. And he's not the only one; in their race to get their new friend home, Graeme and Clive have also become unwitting kidnappers, and the enraged father of their not-so-unwilling captive, Ruth (Kristen Wiig), is determined to rescue his daughter at all costs. ~ Jason Buchanan, Rovi
This is pretty much the nerdiest road trip movie out there.  It is made for me and for people like me.  Who doesn't dream of going to Comic-con and then encountering an alien on your road trip across America?  Maybe it's just me I guess.  Anyways, a movie that shows it's nerd card early and doesn't stop delivering the goods in terms of pop culture and science fiction humor.  Every scene of the film is filled with some sort reference to a show, piece of literature or film itself and if you are as big a fan as I am of the genre, you are going to love this movie.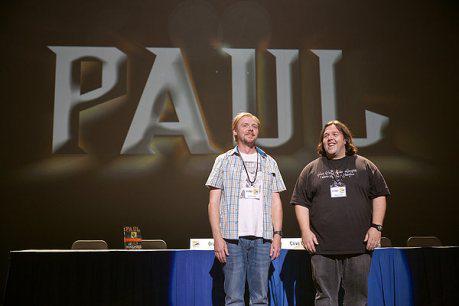 Paul really kind of came and went in terms of being at the theaters.  I didn't even catch this at the theater since it was there for about 2 weeks and then switched out for something else.  It didn't do that great at the box office, but I am sure those that found this movie at the rental store or online are sure to love it.  You have Simon Pegg and Nick Frost coming back together for another comedy film and frankly, they are one of my favorite on screen duos.  Everything they are in is hilarious and because they are amazing friends in real life, it makes the comedic and emotional elements of their acting so much better.
The film does have a few shortcomings as the jokes and science fiction jabs seems to be the focal point of the film, rather than the story, which is enjoyable to say the least.  There is just something a bit off and missing from the proceedings that viewers might not enjoy (pace is all over the place and side plots seem to get jammed together).  Aside from those complaints, this is pure fanboy service and I don't mind in the least being pandered to.  If you are going to pander to me, give me laughs and lots of in-jokes to enjoy.  This movie has all of that and the references don't stop to just lampooning science fiction writers, film jokes and even poking fun at conspiracy theories.  It is played up for laughs and I love every minute of it.