Sorry Scott Bakula, Ziggy says you got to lead this team of nobodies to a bowl game before you can jump.  BOOM!  Fucking Quantum Leap reference.  Give me a high five Dean Stockwell!
With all the uproar about refs and bad calls and football or whatever, I decided to go back to the locker with this football that was main staple on USA network rotation and the fact that I watched the shit out of this movie with my dad who likes Scott Bakula.  Mainly I was waiting for him to leap into another body, but we all can't get what we want.  So much like most on The Replacements, another funny football movie, Necessary Roughness is the rag-tag underdog sports movies that has nothing lose and brings some serious laughs.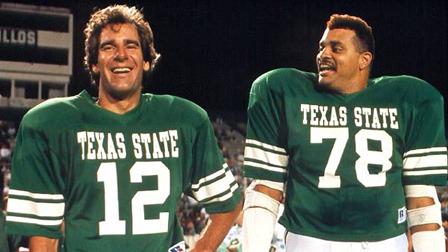 After a recruitment scandal, a struggling college football team is forced to turn to a rag-tag group of misfits in this sports comedy. It seems that Texas State University's football team has relied on some rather unorthodox — and illegal — methods to gain players, resulting in the disqualification of most of the team's stars. The desperate coach (Hector Elizondo) must rely on the school's actual students, a motley crew of unlikely characters that includes a female place kicker and a quarterback in his thirties. Unexpectedly, however, the coach discovers that the passer still has a heck of an arm, and suddenly the team again has a chance. The expected comic complications and obvious bits of slapstick follow as this band of eccentrics struggles to find a way to victory, resulting in a familiar reprise of a well-worn storyline. ~ Judd Blaise, Rovi
Since I am not a big sports fan, I usually avoid serious sports movies.  I am not all for suedo philosophical life lessons about throwing and catching a ball, but rather I want to see some tackles, cheerleaders, comedy and well put together ensemble teams.  Surprising, when I had to go back and watch this movie, there is a lot of well known actors in this movie who just so happen to be starting their careers.  You go Sinbad, Rob Schneider before he turned into The Hot Chick, Robert Loggia, Larry Miller, and even a young Jason Bateman.  Also Kathy Ireland is in here sexing it up as soccer player turned kicker  for the football team.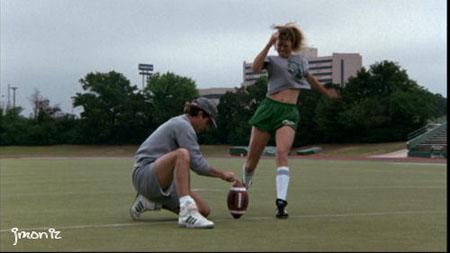 I have to admit that even rewatching this movie after several years…probably a decade…that it still holds up well.  The comedy in it is spot on, reminding of Major League if were to take place in the realm of football.  The characters are portrayed well within their little archetypes, but Scott Bakula really does carry a lot of the funny moments in this movie.  Being the old guy on a young team, there is more situational moments that lend well to older jokes if you can catch them.  But the whole movie is just a fun watch.  Seeing a team of misfits try and play football is funny, especially during the early beginnings of their season.
It isn't all laughs though as the football scenes are well done with bone crunching sounds of illegal helmet on helmet action.  There is as much care given to those scenes as there are to comedic writing and acting.  Sure it does lean into the typical tropes of "win one for the coach", but you can't really escape that in these sort of movies.  All of it just works really well, from the acting, comedy, sports scenes and atmosphere of the movie.  It's an easy movie to love cause you aren't investing a lot of time and commitment to the characters, but they are enjoyable to watch.  Necessary Roughness is the more silly football movie that does takes itself seriously, but never without throwing you a joke.