One of the most under seen films of the past year, Martha Marcy May Marlene was a harrowing and chilling film about life within a cult and coping with the psychological damages of leaving it all behind.  Starring Elizabeth Olsen, the film was a far deeper look into the dynamics of a cult and what it means to be a part of something to impressionable people.  Martha Marcy was anchored by some amazing performances, namely from Olsen and John Hawkes who plays the cult leader.  A fractured story structure and glimpses of a life once lived set up the story perfectly for Martha Marcy and the deep damages experienced.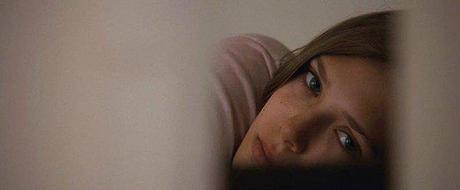 Martha Marcy May Marlene is about a young woman's struggle to leave the confines of the farm she has lived on with other young people for several people.  She escapes to the nearby town and phones her sister whom she hasn't spoken to in years.  Retreating to the mountains, Martha is reluctant to divulge info about her time away and we start to see glimpses of her past life of living on the farm.  A certain order to the chaos there, being accepted by others and abuse, both of the physical and emotional kind.  We learn that it is almost cult like and the leader, played by John Hawkes has a sway over them and controls their minds and hearts.  The story progresses as Martha learns to try and cope with her life in the cult and getting away from all the things that controlled her.
I will admit, the trailer is what drew me into the film.  Hearing John Hawkes play the titular song of the film just seemed too beautiful and serene for a film that using the damaging the psychology of cults to essentially indoctrinate a young woman into his family.  John Hawkes for me is one of the strongest character actors out there and seeing him in this film, for as little time he is in, steals a lot of the scenes.  It is a bit of a testament to his presence and the character that he has to play when he speaks, you listen, and when he asks something of you, you do it.  He isn't a religious leader nor is he an imposing figure with his build, but there is something that he has that calls to the kids at the farm and it's undeniable that his presence is intoxicating.
The film from start to finish is incredible, with strong performances and a well developed story, the film is a breakout hit for Olsen who garnered a lot of praise for her role and she is starting to be cast in a lot more movies.  She exudes an innocence of youth in her acting, but also a deeper reach in her emotional range.  Martha Marcy May Marlene definitely brings to light a lot of her skills in acting and very convincing as the "brainwashed" cult follower.  The film does have a few short comings in that the ending might not be something that a lot of people will enjoy, but it didn't detract too much from my viewing.  I have linked to the original review I did for this movie if you are interested in reading further.
When you break down the film, this is about as close to a psychological study of cult victims that we can get.  The reluctance of Martha to discuss her time there is tempered with only fragments of rape, indoctrination, and subsequent psychological toying with Martha.  The most haunting aspect of the film is really how controlling and damaging the hold that Patrick has on Martha.  There is one thing that I think helps understand the hold that Patrick has on Martha and what it means to strip her of the life that she once lived.   click here to continue reading