Well after a month long posting of documentary films, time to get back on the wagon of non-documentary films.  I completely forgot that this is based in Columbia and I am currently in Columbia, MO (selfish I know since those two places are completely different and less drug running takes places in CoMo) so why not post this film for the sake of keeping with my current situation.  Anyways, I digress as usual, but forgive me about that.
Today's film looks at desperation and moral choices for people with few outlooks on life.  Drug running is means for those with few options in their life to actually, no a completely dangerous way, to make a decent living.  We only hear about drug running and mules on the news as part of the failing War on Drugs, but we don't fully know about the people that participate in the act.  Sometimes they are forced, sometimes they work for the organization and other times they do it because there is nothing else left for them to do.  Maria Full of Grace is somewhat of a personal look at a young girls decision to become a drug mule.  While fictionalized, it isn't far from the truth or reality that people face in an ongoing drug war.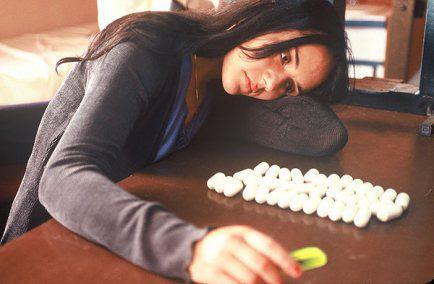 Catalina Sandino Moreno plays Maria Alvarez, a teenager living in Bogotá, Colombia. Along with most of the other able-bodied people in her community, she works a perilous job in a flower plantation. She wants to quit, but her large family depends on her meager salary. One day, Maria meets a smooth-talking young man named Franklin. He offers her a business proposition to make some money and travel. However, the task involves her acting as a drug mule and smuggling heroin into the U.S.  ~ Andrea LeVasseur, Rovi
The strength of the film comes from both the directing by first time director Joshua Marston and Catalina Sandino Moreno.  With the stark subject matter, Moreno was able to convey an innocence that pulls you into her situation, never judging, but just watching.  You view her life and her situation through an objective lens as it becomes about her story and struggle.  It's not just a young woman who becomes a drug mule, but rather a story about a teen who is placed in a difficult position with her family and future.
Moreno, who hasn't really had the trajectory in her career after this movie and her Academy nomination, plays an incredibly mature teen, one of innocence and wisdom which propels the film through its difficult parts.  Moreno's Maria is transplant for the many women out there who find themselves in similar situations.  No choices in a country where crime apparently pays well and even honest work is met with derision and meager pay.  Maria is a believable character, young looking enough to pull at the emotional strings, but mature beyond her years.  Sure, the outcome and subject matter leads to a somewhat exploitative film and characterization of Maria, but Maria embodies that idle hopelessness of economic disparity in her country.  Left with little choices, her push into making a difficult decision to better not only her life and the life of her family is an emotionally challenging situation.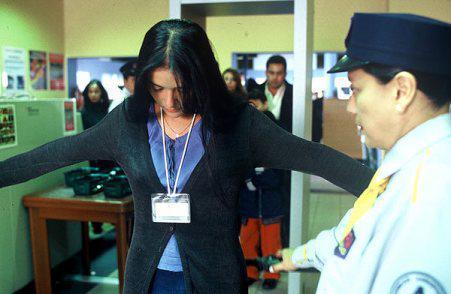 I would love to see Moreno in similar roles, instead of Twilight, which she had a small part in.  She is able to pull you in with her vulnerability, leading you to view her as an individual rather than a person caught up in the drug smuggling trade.  It is the sort of personalized story that paints a better picture on the situation that we only have a passing bit of knowledge on.  We assume that those that caught in drug smuggling are always part of the cartel or drug rings.  We don't stop to think why they are doing it.  If anything, Marston and Moreno bring us a personal film adept at telling both a unique story and sympathetic lead.
*images via RottenTomatoes
Advertisement