Time for sexy spy, thriller, Asian film, which I am certain that statement has filled some niche fetish out there, but I am talking about a classy sexy spy thriller.  Lust, Caution is another phenomenal from Ang Lee (Brokeback Mountain) that is both a historical, period piece and also a finely tuned spy thriller.  The film though is more so remembered for the controversy that it courted as it was rated NC-17 for explicit sex scenes.  Sadly this movie will be remembered for that fact rather than the beautiful acting and engaging story.  It's weird that if you bring up this film, the sex scenes are probably the only thing that people will recall if they have heard of the movie.  What the fuck is the deal with people being hung up about a little acrobatic sex in movies?  Well I want to do this film justice and also talk about the sex scenes for some additional page views.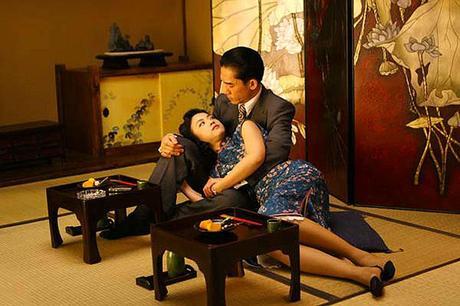 Academy Award-winning director Ang Lee adapts this Eileen Chang story set in World War II-era Shanghai that details the political intrigue surrounding a powerful political figure named Mr. Yee (Tony Leung) in Japanese-occupied Shanghai. Spanning the late '30s and early '40s, the movie introduces us to Hong Kong teen Wong Chia Chi (Tang Wei), a shy college freshman who finds her calling in a drama society devoted to patriotic plays. But the troupe's leader, Kuang Yu Min (Wang Leehom), isn't just a theater maven — he's a revolutionary as well, and he's devoted to carrying out a bold plan to assassinate top Japanese collaborator Mr. Yee. Each student has an important role to play, and Wong puts herself in a dangerous position as Mrs. Mak; she befriends Mr. Yee's wife (Joan Chen), and slowly gains trust before tempting him into an affair. While at first the plan goes exactly as scripted, things suddenly take a deadly turn and Wong is emigrated from Hong Kong. Later, in 1941, the occupation shows no signs of ceasing and Wong is simply drifting through her days in Shanghai. Much to her surprise, the former actress finds Kuang requesting that she resume the role of Mrs. Mak. Now, as Wong again gains intimate access to her dangerous prey, she must struggle with her own identity in order to pull off the performance of a lifetime. ~ Jason Buchanan, Rovi
If there is one thing I love in a spy movie, it's a tense spy film.  We have been bombarded by too much Jason Bourne like spy films where it is all about the wham-bam, shaky cam fests and action out the ass, that we forget that spy films require a little bit more subtlety and even some seduction.  When I reviewed Tinker Tailor Soldier Spy, I applauded the film for their tact and coolness about portraying what spying is all about.  It's not based on who can shoot the best, but who is the best at deception.
Lust, Caution deals with a historical point in China's development during the the Imperial Japanese occupation.  Tang Wei plays the vixen agent Wong Chia Chi, green as can be in the world of espionage but tasked with trying to coax  Tony Leung's character  Mr. Yee in order to get rid of top political figures.  Wong's role is a dangerous one as she is required to become a traitor and work her way up the chain of command to Yee.  Her background as a drama student is played up to make her believe that what she is doing is merely acting out in a big production and she must act to perfection.  The interactions between bout Wong and Yee are about as tense as can be, as the success of the plot must hinge on Wong to never break character, but also balance between her feelings for Yee and that of the revolution.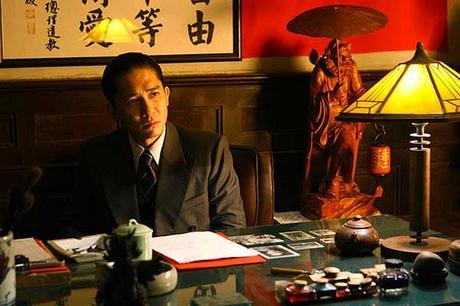 Their relationship is the center piece of the plot and what ultimately makes the film so incredible.  Every glance, every touch and word they say is marred in some form of deception, at first though.  It isn't until the film carries on that we see these deceptive acts turn to something more, as Wong begins to have conflicts with her feelings and mission.  She is so involved with the role she must take and being with Mr. Yee, that either she must commit fully or lose the opportunity to take him down.  A gorgeously paced story that spans across the Hong Kong and Shanghai cities, this is a film that is surely a masterstroke for Ang Lee.  Sadly the film is remembered for getting that dreaded NC-17 rating which limited the release of the film.
The sad thing, the sex in the film is a pivotal and crucial part of the film.  Sure it might seem like am saying that because, hey, it's voyeuristic sex, but while some is more for show, their sex acts carrying a lot more meaning to the story.  While Wong's job is to get near the target, the act of sex on her part is muddled.  You aren't certain if her sex with Yee is meant to further her agenda or is an act of love and lust.  To cross that line in her role means that she gives up a part of herself to Yee, forming more of an emotional attachment rather than a quick copulation to get to the next level.  At times you see her loathe the act and other times it is a lusty gaze that conveys more about her intentions.  It's meant to further the story and develop a dynamic connection with the characters and it also looks great on film.  Ang Lee can film a sex scene is what I am saying.  It isn't graphic, hell, people probably do this on a regular basis, so why the hell is it so shocking?
The film is a slow burn from start to finish.  If you get the R-rated version of the film, you get a few truncated scenes and some of the sex cut out.  It's sad really that they had to do that, but find the NC-17 version and you will get a lot more out of the movie with the inclusion of the sex scenes.  You are all adults so this shouldn't be a shocking thing, unless you are a kid reading my blog.  In that case you should get your parents permission before watching.
Ang Lee pulled together a beautiful and evocative period piece, one that mixes romance and intrigue along with a constant state of heightened fear.  It's slow in some parts, but the way the story unfolds is truly magnetic and will have you waiting with abated breathe at what comes next.  That is unless you read the 1950 novel of the same name before watching this.
*images via