After going over Duel to the Death and that amazing ending battle between the two swordsmen, I decided to go back through my Netflix recommendations and past movies I have watched that were martial arts related and discovered a movie that I watched a few years ago.  It was a movie that some might think of as forgettable or a one and done sort of movie.  I instantly recalled this Chilean martial arts film from 2006 and was rather wowed by what I saw.  Kiltro is a gem amongst the roughage of martial arts movies, coming from a country that we don't even associate with martial arts or action films, that is of course if you are one of those people that consumer South American cinema.  I am certainly not that sort of person, but hell, I will give it a shot if there are more flashy movies like Kiltro for the kung fu, martial arts movie enthusiasts.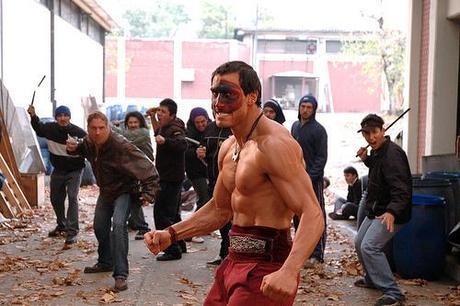 Chilean brawler and stuntman Marko Zaror marks his emergence onto the international action scene with this fast-paced martial arts film about the leader of a small Chilean street gang who finds redemption by standing up for the people he loves most. Zamir (Zaror) is the leader of the Kiltros, an idol gang of thugs who spend more time being lazy than breaking any serious laws. Some time back, Zamir rescued half-Korean high school girl Kim from being raped, and now he spends the majority of his time obsessing over the pretty schoolgirl. While Kim doesn't have any real interest in Zamir, she continually toys with him by manipulating him to fight the tae kwon do students at her father's dojo. Suddenly, a villainous scoundrel named Max Kalba bursts onto the scene — hell-bent on a mission to seek vengeance against Kim's father and his students. It seems that Max's late wife was not the faithful kind, and now the enraged widower places the blame for his wife's infidelity square on the shoulders of Kim's father. With nothing left to lose and everything to fight for, Zamir will take on Max in a fight to the finish to protect the people he cares for, and win Kim's heart once and for all. ~ Jason Buchanan, Rovi
My initial reaction to Kiltro was that it is a fancy, flashy looking martial arts movie that is brimming with impressive fight scenes and not much else.  It's sad to say that since it was the first film by director Ernesto Espinoza, but I can't hold it against someone who made a movie like this in Chile.  Kiltro stars the impressive figure Marko Zaror, who is a rather large individual that is capable of some astounding acrobatic feats and prowess for hard knock martial arts.  It's a shame that he hasn't really burst onto the scene in terms of seeing him in more action centric movies since he is fully capable of being a physical actor, but at least he has Kiltro and a few other movies under his belt.  I did notice his name in the casting list for Machete Kills, so that is something right there.
Kiltro is truly all flash and not much else, with an overly expansive story that is just a bit too convoluted and all over the place.  The trailer itself is just a testament to the cluttered movie, going from set piece to set piece with a changing array of visuals that doesn't seem to have a rather coherent feel to the whole movie.  It's a nice, expansive love story though and I wish I could have gotten a little more involved with it.  The best parts of the movie are the action sequences that are done very well and seem to be where all the attention is placed.  Sure it's nice to get a mustache twirling villain and heroic vagabond, but I just couldn't get behind everything.  I was more interested in watching Zaror flip around with those boot blades and eviscerating everyone in his path.  There is plenty of action to keep you motivated through the movie and Zaror is amazing to watch with his high flying action moves.
Is this a great movie?  Not really.  The story and acting is just what you expect in terms of an action vehicle for their respective star, but that doesn't really interest me as much as the action.  So the real question is, "Is Kiltro a good action movie?"  I would have to say yes.  It's interesting to me to see what other countries are able to produce in terms of developing a signature action film or mixing in martial arts to their movies.  Kiltro certainly delivers a lot of the over the top action I would expect from a director wanting to make his mark in the genre and I wish this did get a lot more fan fare.  I am excited that you can view this on Netflix since I would be hard pressed to find this at a video rental store, even during it's release.  I say give it a shot if you are wanting to witness something a little different with your martial arts movies.  I certainly was surprised when I watched it several years ago and even re-watching this movie is still entertaining.