I am coming off an action high from yesterdays viewing of The Raid Redemption, which the review will be coming shortly once my brain finds a harmonic way to reduce the amount of gun sounds and punch sounds used in the review.  It's that fucking amazing.  So to temper and sate the need for more action, I decided on a film that is all kung fu and all action.  If you are a kung fu fan, much like The Forbidden Kingdom post, you will love what Kill Zone has to offer, other than a killtastic name.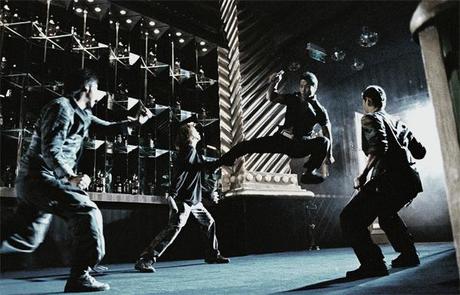 An ailing veteran cop whose relentless determination to do away with an untouchable gangster has led him to employ a series of unethical tactics finds his investigation complicated by the arrival of principled new inspector and the death of a fellow cop in this explosive underworld tale from Skyline Cruisers director Wilson Yip. Facing an inevitable retirement, the beleaguered and cancer-stricken Detective Chan (Simon Yam) has grown desperate to put away Teflon-coated crime boss Po (Sammo Hung) — so desperate that he even begins planting false evidence and tampering with video in hopes of making a charge against Po stick. As Detective Chan begins to grow accustomed to thoughts of retiring and make way for honest incoming Inspector Ma (Donnie Yen), the ongoing investigation hits a snag when an undercover cop who has infiltrated Po's gang is mysteriously killed. ~ Jason Buchanan, Rovi
Kill Zone (also known as Saat Po Long or S.P.L) brings together the talents of martial artists Donnie Yen and Sammo Hung, which if you are big into kung fu cinema, this would be on the level of Chan and Li getting together for a film.  This is really the highlight of the film as the confrontations all lead to the final showdown which showcases some impressive fight choreography.  On the whole, Kill Zone is a pretty by the numbers police procedural with the police crew trying to take down Po, who is the typical crime boss in film.  The story and acting is pretty basic in terms of the depth that you get from the group of fine actors, but the real deal is the action of the film.
To say the least, the action sequences which are more martial arts than gun fighting is extremely gratifying.  I enjoyed watching Yen pretty much kick loads of ass in the most spectacular way along with a few of the melodramatic parts that hype up the fights.  Each fight gets amped to the next degree in terms of variety and style changes.  The ultimate showdown is between big boss Sammo Hung and Donnie Yen, which the two men are legends in their own craft.  Yen has a more flower-like movement to his fighting which in corporates a lot more high wire-esque moves and flow.  Sammo on the other hand is just a rough fighter with a lot of force and some hard hitting punches.  You definitely feel a lot of the swings and connections along with the intensity of the fight itself.
Believe me when I say this, Kill Zone is strong kung fu action film, although the story is forgettable and the fact that Simon Yam is a bit under utilized in this film, given his career in similar roles.  Donnie Yen, Sammo Hung and Director Yip do manage to call back to the Hong Kong action days of cinema with a good throwback that pushes the fight scenes to far more entertaining levels than other films in the category.  It's a good view if you can track down the film.