I have never actually covered one of these DC Comics releases, I watch them all the time on Netflix and for the most part, a lot of them are pretty damn amazing.  The voice work, story coverage and general love of comics is the potent combination to get me to watch these films in lieu of them never being converted to the big screen.  I will take what I can get personally in terms of comic book movies and if you haven't looked through the offerings on Netflix streaming for these movies, you are truly missing out on some awesome comic book viewings.  Today, I picked the impressive, although slightly disappointing (story wise) DC Comics release Justice League: Doom which is a loose adaptation of JLA: Tower of Babel.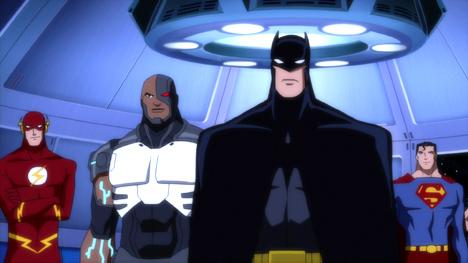 The villainous Vandal Savage steal's Batman'stop secret file containing the known weaknesses of The Justice League members, pitting the noble superheroes in a fight against the Legion of Doom to save the world from certain destruction. Concerned of the consequences should his fellow crime fighters ever turn their backs on humanity, Batman compiles a list detailing the methods he will need to defeat Superman, Wonder Woman, The Flash, Green Lantern, Martian Manhunter, and Cyborg in the event of an emergency. But when Vandal Savage breaches the Batcave's security and gets his hands on the list, the Justice League must overcome deep feelings of betrayal to defeat the diabolical Legion of Doom. Meanwhile, The Dark Knight struggles to make a decision that could have devastating consequences. ~ Jason Buchanan, Rovi
If you have never read the JLA: Tower of Babel storyline, I highly recommend it as it depicts Batman as an apparent threat to the Justice League as his files on the members of the JLA are stolen and used by Ra's al Ghul.  The files are a list of strengths and weaknesses that Batman has compiled on the league members as a fail safe to subdue the members if they were to become a threat to Earth and humanity.  That Batman, always planning shit out ahead, which is why he is a way better character than any other superhero out there.  Yeah I said it.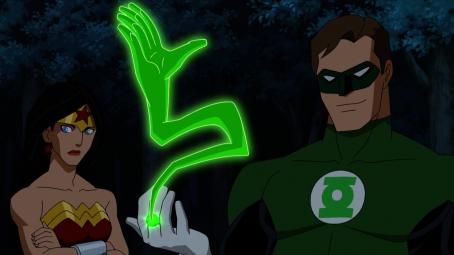 The movie takes a few things here and there with the story and alters it to fit a short narrative.  The comic it is based on is massive story arc, one with a lot of depth that is truncated in the movie, but I can understand that.  It would require a much larger movie in order to get all the little nuances in the movie, but it does a great job at getting the meat of the story, albeit a bit altered.  The movie does jam pack a lot of well known heroes and villains into massive battles which are awesome to watch cause for a long time we had to imagine what the full fights would look like in the panels of a comic.  Plus that is really the reason to watch these comic book movies, seeing supers battle it out.
Overall the movie is carried incredibly well by a diverse cast of voice actor, most notably Kevin Conroy as Batman and Nathan Fillion as Green Lantern.  Conroy is just so damn iconic and truly the voice of Batman.  Perfect in every way, the voice talent is superb and fun to listen to them embody their character.  The Justice League: Doom comic is a good adaptation of a staggeringly wonderful comic book and DC keeps it coming with these movies keeping people like myself, happy as a kid in a comic book shop.  It is definitely worth a look if you are even remotely interested.  I plan on doing more of these reviews and suggestions since they get overlooked by a lot of people.