I was recently on a medieval film kick as of late and I just had to post about this film in particular.  This isn't really something that has broken new grounds in the storytelling or redefined the genre of medieval films.   There is a bit of history thrown into the proceedings, but what it does best is serving up the guilty pleasure that is medieval violence.  Ironclad literally goes medieval on the asses of those that dare to overtake their castle.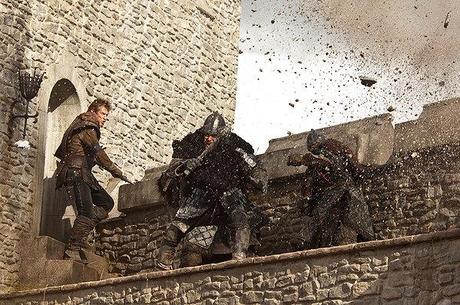 Academy Award nominee and Golden Globe winner Paul Giamatti stars as King John in this epic historical adventure detailing the siege of Rochester Castle in the year 1215. Forced under duress to sign the Magna Carta, an enraged King John assembles a rogue army and fights to take back England by force. As the king sets his sights on London, the only thing standing between him and total victory is Rochester, where the brave Baron Albany (Brian Cox) prepares to fight back until the cavalry arrives. Chief among Baron Albany's small yet determined rebel army is a Templar Knight (James Purefoy) still haunted by his reprehensible actions during the Crusades and wracked with love for Reginald de Cornhill's (Derek Jacobi) ravishing, neglected wife, Isabel (Kate Mara). Later, as the king's army approaches, ruthless mercenary Beckett (Jason Flemyng) and young soldier Guy (Aneurin Barnard) vow to fight alongside Baron Albany to the death.  (source)
This movie immediately goes into my guilty pleasure bin.  As an action film, there is nothing more satisfying than watching armored troops engaging one another in medieval combat that is just down and dirty fighting.  There is no elegant swordplay or fancy moves to take on a horde of fighters, there is just the wild haymaker swings that are meant to split the guys in two.  It's that sort of visceral combat that is the hallmark of Ironclad, as the battle scenes just elevate the movie, which is mediocre, the story is anyways.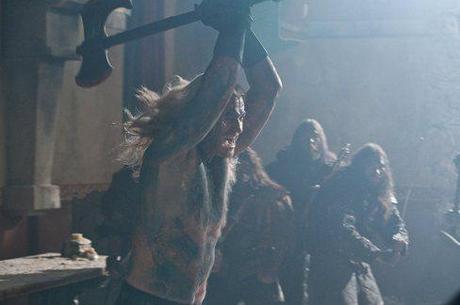 I am not sure if they meant to be serious about the movie or if they just said fuck it and started handing everyone maces so they can just film battle scenes.  Paul Giamatti hams it the fuck up in this movie with his little Lord Fauntleroy haircut of his.  God that shit was distracting, but man Giamatti can totally play it up like no other.  He is a fantastic villain and unlikable guy in this role.  But while the acting is short and limited to more primal screams that only come from cleaving a man in half, it's the buffet of action that makes the film.  The last stand battle between an almost seven samurai group of Templars and civilians going up against some barbaric horde.
I was pleasantly surprised by how much I enjoyed the movie, more so for the violence and hammy acting.  There are far more intuitive and engaging films set in the medieval era that will be geared more towards story.  Ironclad attempts to add some history to the face bashing, but it really doesn't hold my attention like some sword cutting.  I kind of liken this film to something like Centurion (I am aware that the time period is different, but the violence is the same) where you get a bit of history and some sweet battle scenes.  Nothing new, but a total guilty pleasure in the action department.
*images via RottenTomatoes