Oh my god yes!  This is what cinema is for folks.  Movie like Inframan are the reason that I go to the movies, watch untold hours of movies and generally love everything about movies.  Infra-Man is basically something that a 10 year old version of me would make if given the opportunity to take my adolescent ramblings about robots and karate and turn them into a reality.  A completely off the wall action film the likes you have never seen before and I am going to talk a bit about this movie today in preparation for my chance to see it on the big screen next week at the Alamo Drafthouse.  This is the shit folks.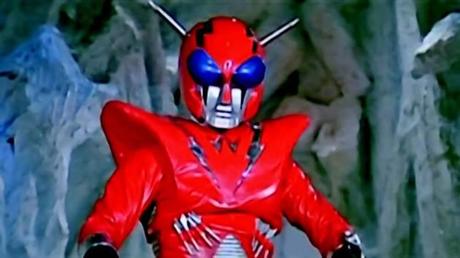 A Chinese volcanic eruption frees a number of prehistoric monsters into the modern world, and only the superhero Infra-Man can save the day. ~ Jason Ankeny, Rovi
That's it folks, that is all you need to know about the plot line for this movie cause that is all there is to it.  A cybernetic being who must go forth and battle the evil monsters that are tearing up the world.  If you are a fan of big monster battles and a little bit of sci-fi fun, you can't miss this movie.  A little known Shaw Brothers flick from 1975, Inframan is pure cheese and a hell of a lot of fun to watch.  There is just about everything possible thrown into the movie in terms of action, battles, and effects.  The titular hero can do just about anything he wants, can survive just about anything, and has rocket feet he uses to fuck shit up.  He also has those super cool hand blade lasers that he uses to cut off the hands and heads of his foes.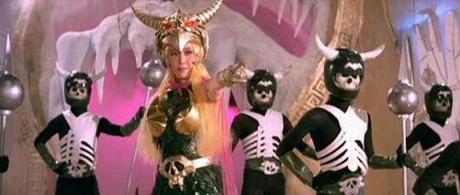 This is just too good for words, I mean it's just a movie that doesn't with the over the top antics in terms of monster battles, super cool looking effects and a pure, wanton love of big monster movies.  Yeah, it's not a Godzilla film, but it certainly has a certain charm that conjures up images of Ultraman and Godzilla like similarities in their presentation.  From the opening sequence, you are put into a trippy, trance of flashing lights and colorful imagery that preps you for the insanity of the vibrant scenes of rubber suited action to come.  It's campy in its nature, but Inframan delivers one of the funnest movies you will have a chance at seeing.  The fact that this will be playing in 35mm at my local place of work is awesome.  I want to experience the lights, sound and action that happens on screen because it hypnotic and frantic.
I want to talk about the plot of the movie and some of the scenes that are in the film, but I think the trailer and the super short synopsis does a better job of that than I can ever do.  Certainly a relic of its time, but never forgotten.  From the action to the colorful and lively villains that permeate this film, Inframan excels at being a product of its time and certainly aging incredibly well over the decades.  You can find the full movie on Youtube currently, so if you truly want an awesome movie watching experience, I couldn't recommend a better movie than this.