Apparently there is a big game happening tonight which I won't be watching I procured the latest episode of Game of Thrones, so that will be occupying my time this evening.  But I am not a complete shutout when it comes to the collegiate sports that is taking place.  I figured that in honor of the big game, I would choose a movie that is about basketball and one of the more accessible of Spike Lee's film.  While sports films tend to have a lean of the underdog tone and the moral conflict about the protagonist, the film doesn't just focus on this dynamic, but adds a bit of a melodrama and touching introspective look at life and choices.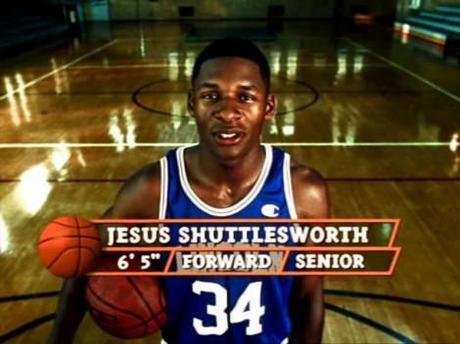 Jake Shuttlesworth (Denzel Washington) has been in prison for six years when tough prison-warden Wyatt (Ned Beatty) tells him that he's getting a temporary parole with the promise of a commuted sentence. However, there's a trade-off — Jake must talk his son, Jesus Shuttlesworth (NBA star Ray Allen of the Milwaukee Bucks), the top-ranked high-school basketball player in the country, into signing with the governor's alma mater, Big State. A flashback makes it clear that Jesus' mother (Lonette McKee was accidentally killed by Jake during a violent family fight. After Jake went to prison, the resentful Jesus was left alone to raise his sister Mary (Zelda Harris). Now several colleges are offering Jesus scholarships, and montages satirize the manner in which young athletes are wooed by educators and coaches across the country. However, Jake will soon be back behind bars if he can't get Jesus to sign with Big State within the week. ~ Bhob Stewart, Rovi
This is one of the more tamed Lee films to have come out in his career, one that is diving into the political or racially charged nature of the world.  He Got Game is an honest look, while a bit embellished, at the struggles of a talented individual dealing with the weight of world hinging on one decision.  Lee explores the perils and traps that go along with being a talented individual making it out of the impoverished area.  Ray Allen plays Jesus Shuttlesworth, an individual who has an opportunity of a lifetime to play basketball at the college or professional level.  His story is a personal one which we witness how a young man comes to terms with so many options, good or bad.
Ray Allen is surprisingly compelling in his role of Jesus Shuttlesworth, which is a big compliment considering it his first role.  The true conflict isn't about him overcoming the pitfalls of those around him and the lucrative contracts that tempt him along the way, harkening back to the Christ like comparison of the protagonist, but the true conflict lies with the father and son dynamic.  Jake Shuttlesworth is played by Denzel Washington, who is a convicted felon and murderer of Jesus's mother and his wife.  At each meeting, few things are said and Jesus becomes dismissive of his father, never having truly forgiven him for his crimes.  The meetings they have each culminate in just a little bit of more conversation and understanding.  The testament to Lee's writing is that you care more about what Jake and Jesus have to say to one another, each revealing their motivation in life.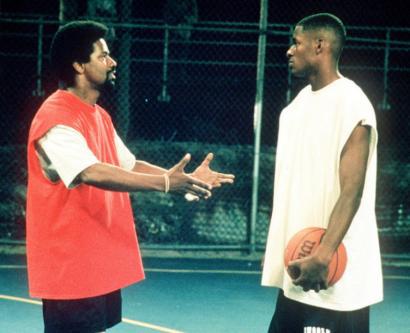 Sure, the movie is about Basketball, but there isn't a whole lot of it happening.  Rather this film is a study about choices and understanding the good and bad of choices. Jake pushed Jesus into basketball, preparing him for a life in which it will be his key to success.  Jesus laments how hard his father was to him in his childhood and on one night, will never get to have an answer to it all as Jake drunkenly kills his wife and Jesus' mother.  It's understanding choices and coping with them that lets both leads learn to live with their predicaments.  Jake builds Jesus up to this one moment where he will make the right decision, whether it benefits him or not.
The tone of the film is beautiful with the relation of basketball and life winding together to form a powerful film.  Allen is remarkable as Jesus and it was great to see Denzel as something other than a heroic figure.  They both get to explore their characters more in terms of understanding forgiveness and life.  Lee does tend to overindulge in his films as this has a running time of over two hours.  You will feel the pangs of pacing as he lingers on certain scenes a bit too long, but ultimately it is still one of the better Lee films he has done.  He doesn't harp on a political or racial subject, but uses the struggles of an inner city youth and his talent  to showcase a personal turmoil and story.