Sonny Chiba.
Time Travel.
Samurai, lots and lots of samurai.
Modern Military Technology versus Ancient Samurai Technology
Awesome battles.
G.I. Samurai.
Fuck yes.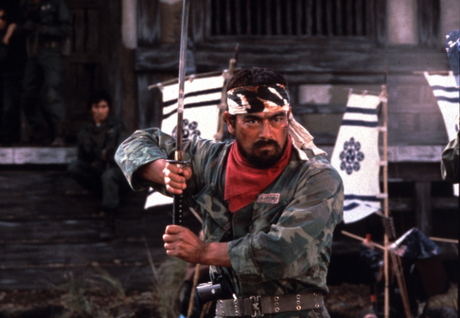 Transported 400 years into the past after falling into a mysterious time slip, a squadron of contemporary Japanese soldiers becomes caught between two warring samurai clans fighting to determine who will be the supreme Shogun. As the fighting between the rival samurai clans intensifies, squadron leader Lt. Iba (Sonny Chiba) makes his bid to become the ultimate ruler of Japan by teaming with the samurai leader Kagatori. Kagatori realizes that he can win the war by using the weaponry of the time traveling soldiers to his advantage. Should he succeed, Kagatori and Lt. Iba will together shape the future of an entire nation. ~ Jason Buchanan, Rovi
Got to love a high concept idea such as taking modern technology and placing it against ancient technology.  It's a pretty badass idea when you think about it.  Having a modern military platoon having to defend themselves against the fiercest warriors of Japan, the samurai.  It's a shame this movie is relegated to being a b-movie classic, but I wouldn't have it any other way.  The movie is b-movie material and it owns it.  The story is a great concept piece but doesn't get developed, the acting is about as good as it can get with Chiba carrying the brunt and the action sequences are cheesy with a little bit of heart to go along with it.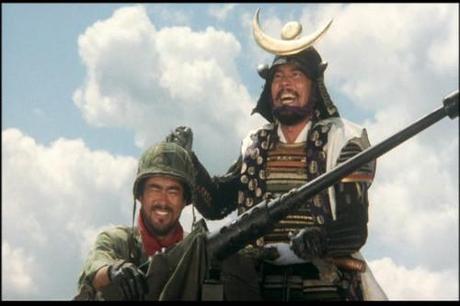 I don't know if a higher budget or something could have really saved this movie.  The idea is great, but just a bit big for its britches in terms of the undertaking.  Maybe a more high profile director or more cash could make it look better, but the grindhouse feel I get from the movie more than makes up for it.  Sonny Chiba is really the best part of the movie, the platoon leader and eventual sword wielder.  He brings that signature intensity to really any role he plays which makes him amazing at chewing up scenery and bringing that much needed infusion of vigor to any movie.  Here he gets to mow down samurai with guns and swords, almost as if it comes so natural to him.
G.I. Samurai is really just a fun movie to watch.  There isn't a lot of substance with the story, just what you get from the surface in terms of setup and depth.  The acting is b-movie quality and is really saved because of Sonny Chiba himself.  God I love that man.  The action sequences are pretty damn entertaining, albeit a bit rough around the edges with the effects and composition.  But the high concept idea really boils down into an enjoyable b-movie experience that I hope spurs along some Hollywood exec who wants to remake it.  I wouldn't complain personally cause this could use a re-up, but uh we can hope for the best.