Christopher Nolan has come a long way since his first film back in 1998 and an incredible one to boot.  Some people I know typically see me as a Nolan fan, defending and praising his work, but frankly, the man deserves the accolades he receives.  Most people will remember Nolan from his mind fuck film Memento, but the ground work for his technique and style are laid here in the Neo-Noir thriller Following.  It wasn't widely distributed and I only was able to see it until it was finally put on Netflix a few years ago.  After watching it, I can see why Nolan is one of the best directors out there.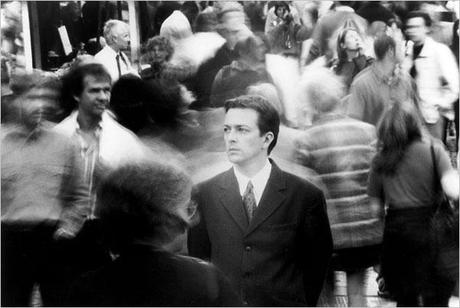 Wannabe writer Bill, aka "The Young Man" (Jeremy Theobald), is "between jobs," living in impoverished circumstances with no prospects, plots, or outlines. Desperate for ideas, he begins following people in the street to "gather material," more accurately described as a venture into voyeurism. When Cobb (Alex Haw) realizes he's being followed, he confronts Bill. Cobb explains that he goes one step further — entering people's apartments not only for theft but also to spy on private possessions. The notion of illegal intrusions excites Bill, but graduating to the next plateau beyond break-ins sets him up as a fall guy. ~ Bhob Stewart, Rovi
A rather fascinating subject matter, Following is a taut thriller that explores subtexts of voyeurism while weaving an intricate story that is quickly paced, but jumbled in its non-linear story telling.  The technique itself is what caught my eye initially as it is about as low budget as a film can get, but he uses natural light and a seamless transition in editing and handheld shots.  It all looks so tight and subtle that you get sucked into watching a first time director create a world of intrigue and voyeurism.
The story of the film isn't necessarily unique as it has some undertones of Rear Window in which the lead observes people from a distance, but it takes it one step further when Bill starts crossing the line of his interaction by following the people into their homes, becoming far more intimate with their lives.  When Bill meets Cobb, the two share a bond in their actions, one a follow and the other a thief, and one has an agenda with his actions.  The story is presented in a temporal timeline, fractured and shifting all the time, it creates a perfect tension and set up for the films ending.  It manages to tie all the events together neatly, but not without using the structure to produce thrills and intrigue in a seemingly straightforward timeline.
I really don't want to spoil the film, but suffice to say the film is stunning.  A simplistic black and white 16mm film, smart writing and unique use of time and story structure enhance the overall feel of the film and ends up cementing Nolan's creativity.  The fact that this was the film that launched his career into Memento and then Insomnia is nothing short of incredible.  A film that was shot on a micro budget of roughly $6000 is astounding.  Now he gets to make $200 million dollar films.  Check out Following on Netflix Instant Stream.