A post apocalyptic film starring Rhona Mitra and directed by Neil Marshall?  I am sold on the idea already.  Listen, after taking in 16 documentary films this past weekend, I need a little mindless violence and wanton destruction to unwind.  Personally, Neil Marshall is effing amazing when it comes to delivering both action and a decent story, so I can take his films at face value.  Besides, if there anything I like more than a post apocalyptic film, is a post apocalyptic film with a woman who kicks ass and over the top chaos and violence.  Consider me easy to please.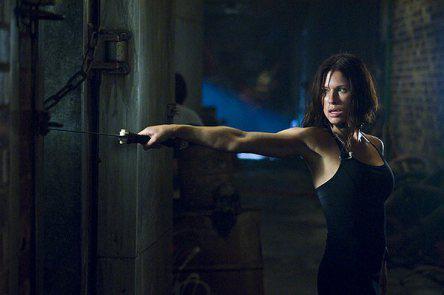 Few could have foreseen the terror that the microorganism known as "Reaper" would unleash upon the unsuspecting population, and when terrified authorities quarantined the entire country in hopes of saving the human race, the streets immediately descended into chaos. Thirty years later, the inhabitants of planet Earth think that they've seen the last of the merciless killer disease, but they couldn't be more wrong. When "Reaper" reappears more powerful than ever in a major city, an elite group of professionals led by Eden Sinclair (Rhona Mitra) are forced to travel back into the sealed-off country where the virus first broke out in order to create a cure and save humankind from certain doom. Now, as the rest of the world anxiously awaits word of their ultimate fate, Eden and her brave team are about to find out that there is indeed a hell, and they are about to journey directly into its black, envenomed heart. ~ Jason Buchanan, Rovi
If you aren't a fan of Neil Marshall's, what the hell is wrong with you?  He made a cult classic, Dog Soldiers, about some soldiers that turn into murderous wolves, then he makes, The Descent, which prominently featured an all female cast pitted against one another for survival.  The man can make entertaining films and even Centurion was a good film that had a historical lean and Michael Fassbender, but no Fassbender penis.  Neil Marshall delivers Doomsday to our door with a mix of science fiction, horror and action, all neatly wrapped and draped over the gorgeously tough Rhona Mitra.  Shit it even has Bob Hoskins and Malcolm McDowell having supporting roles.
Marshall manages to mix a variety of genres into this brutal film and frankly, I can't get enough of it.  It isn't often where you have a movie that pushes the cannibalistic nature of a ruined society and pit them against a society that somehow reverted all the way to the medieval era.  Yeah, two factions of a walled of country seemingly went two different way with their survival.  One decided to eat people in the typical fashion I imagined society would fall under and the other part somehow find a time machine and a castle, thus establishing some weird fiefdom.  You know, it doesn't matter since the drastic settings offer up some good action set pieces and fulfills my film requirement of blood and guts.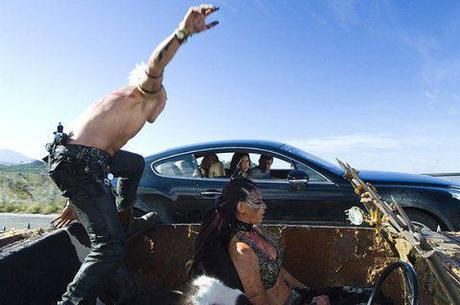 What helps though is a tough as nail lead and wouldn't you know, Rhona Mitra has nice nails to which she will eviscerate you with.  She is perfect for this role as a steeled member of a tactical team, but also enough of a emotional vulnerable character that you can at least root for.  I dig Rhona in this role as she can play domineering roles instead of the usual vulnerable, nude character, which is also great.  But when she grabs a sword or chokes some dude out in this movie, you pay attention a little bit more.
Listen, this isn't Shakespeare or some fancy looking foreign film.  If you want those things, read my previous entries to get your fill.  If you are wanting a no non-sense film that is a violent, sci-fi fun filled time, then you can't really go wrong with Doomsday.  Yeah there are a few shortcomings to the movie, but I am too busy watching Neil Marshall present us a tasty science fiction, post apocalyptic film with a kick ass lead and some interesting visuals.
*images via RottenTomatoes