Put yo weight on it!
Time for a funky time with another blaxploitation flick and we are going to groove to the sounds of fury with Disco Godfather.  Rudy fucking Ray Moore is back and kicking all sorts of ass while making sure the tunes are spinning folks.  God I love this genre of film!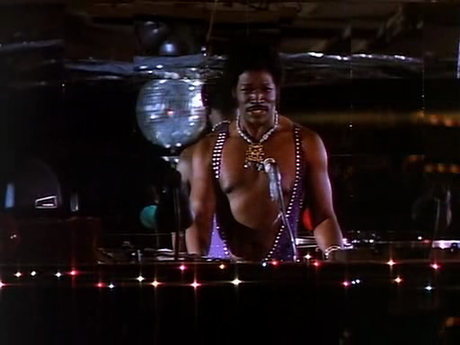 J. Robert Wagoner directs the 1979 blaxploitation-martial arts classic Disco Godfather. Rudy Ray Moore stars as Tucker Williams, an ex-cop and resident DJ at the nightclub Blueberry Hill Disco. When his nephew Bucky (Julius J. Carry III) gets mixed up with drugs, Tucker is motivated to start some violence. With the help of plucky Noel (Carol Speed), Tucker takes on major angel dust dealer Singer Ray (James H. Hawthorne).  ~ Andrea LeVasseur, Rovi
You won't find a better, off the fucking wall, blaxploitation film than Disco Godfather.  This is pretty much as good as it gets in the department of disco, crime fighting movies and trust me, I have probably seen them all.  Nothing, beats watching a movie that combines the dancing of Saturday Night Fever, the action of Dolemite and pure machismo that is Rudy Ray Moore.  I mean have you seen/listened to his albums?
Oh yeah, got distracted for a moment, Disco Godfather is just a funky good time with a plot line that is pretty much standard blaxploitation in that our intrepid hero is cleaning up the streets of their drugs, sexing women left and right, and basically busting a move on the dance floor.  It never takes itself too seriously as Moore just delivers his Dolemite lines in rapid, smirky manner.  He is funny as can be as he embraces his persona and the movie never tries to overplay its hand with the drama and action, they let the comedic, vibrant elements play out beautifully as we are treated to ass kicking and dancing at every turn.
Disco Godfather certainly knows what it is and just makes sweet love with the material.  This is a perfect film for those that want a taste of the blaxploitation genre without ever feeling intimidated by the subject matter or even feeling inadequate to the giants of the genre.  I mean jumping in with movies like Shaft or Superfly might seem like a lot, but Disco Godfather is the right amount of action and fun that you can ask for in a movie.  Rudy Ray Moore just owns this movie through and through, basically making it a fun ride of funky tunes and superior kung fu ass kicking.  This gem is also available on Netflix instant stream, so there is no excuse for a groovy time with this movie.