I haven't done a zombie film in a while and since coming off of the season finale of The Walking Dead, what better way to continue the high of zombie-ness than with a balls out zombie flick.  I got to hand it to those crafty Norwegians with their beautiful country, beautiful women and beautifully wacky films.  If you have never seen Troll Hunter, that is a must for any film fan, but while mythical trolls lumbering around the country side is appealing and downright ridiculous, Dead Snow brings us Nazi zombies.  Yes those dastardly WWII villains are now zombified, thus making the act of slaying them all the more sweeter.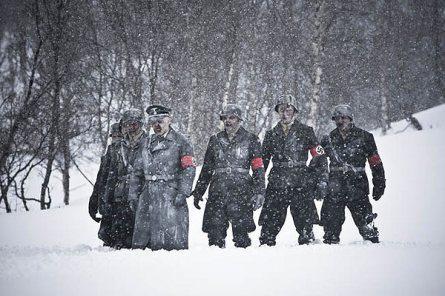 Eight medical students on a ski trip to Norway discover that Hitler's horrors live on when they come face to face with a battalion of undead Nazi soldiers intent on devouring anyone unfortunate enough to wander into the remote mountains where they were once sent to die. It's Easter vacation, and what better way to spend the break than skiing down the isolated hills just outside of Øksfjord, Norway? After packing their cars with enough beer and ski equipment to ensure that a good time will be had by all, the students set out for their destination and prepare for a relaxing snowbound getaway. Shortly after arriving at their remote cabin, however, the students receive an unexpected visit from a rather suspicious hiker. According to their shady visitor, the Nazis occupied this territory during World War II. In the aftermath of their brutal raping and pillaging, the locals revolted, driving the few surviving Nazi soldiers — including their iron-fisted leader, Colonol Herzog — deep into the hills. Neither the soldiers nor their leader were ever seen again. Everyone in town assumed that they simply froze to death. But there's something stirring out there in the trees, and it won't be long until the unsuspecting students discover how the story really ends. ~ Jason Buchanan, Rovi
Gory, wacky, violent, and downright absurd are all the words I would use to describe this film.  True horror fans will embrace another zombie film into their ranks and with a little international flavor, adds a bit of worldly sophistication to your film collection.  The film is just a tour de force of visceral gore, fast paced action and the killing blows that are the crowning achievement of any horror movie.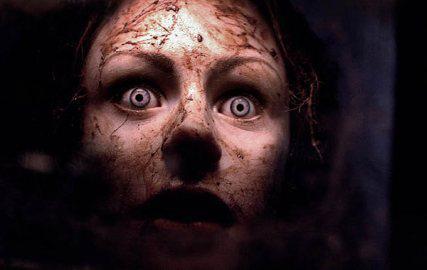 I get that some people found this movie as an exercise in futility.  It took about every possible trope of the zombie genre, put it in a bag and then beat it to death like it was a zombie head.  It really does drive home that point that this is about as generic as a zombie movie can get, but then again, I knew exactly what I was getting.  I don't care if the film isn't breaking new ground, I just want to see nazi zombies get what's coming to them.  Sure the story is "meh" and the people in the film are just fodder for an awesome death scene, but screw it, I want to see zombies doing what zombies do and people trying to fend them off.
Dead Snow doesn't break new ground with what it is doing.  You have probably seen this type of film dozens of time, but frankly the film delivers the gore and violence that you want in a horror movie.  It also does it with camp usually found in American productions.  It's a unique addition to the zombie genre as Norwegian filmmaking isn't well know, but if this what they make on a regular basis, people are definitely going to take notice.  It's a humble gift given to us by a humble society.  Thank you Norway.
*images via RottenTomatoes