It was always Col. Mustard in the Library with the wrench.  At least that is what I thought happened in the game of Clue, the murder mystery board game that had people becoming young, Angela Lansbury type detective to solve a murder in some rich persons mansion.  Clue ended up being the first board game turned movie to hit the theaters in 1985 and since I just finished watching Battleship the other day, I figured I would keep with a theme.  So with a comedic cast of characters (Tim Curry bitches!) and the campy nature of a murder mystery comedy in tow, Clue actually is one of the more unique board game adaptations that actually did something interesting with the ending of the film.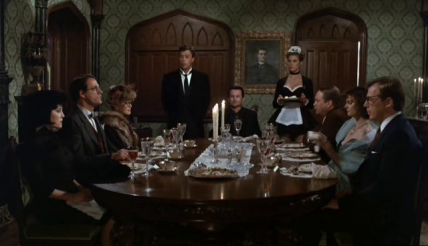 On a dark and stormy night in 1954, six individuals with ties to Washington are assembled for a dinner party at the swanky mansion of one Mr. Boddy (Lee Ving). Boddy's butler, Wadsworth (Tim Curry), assigns each guest a colorful name: Mr. Green (Michael McKean), Col. Mustard (Martin Mull), Mrs. Peacock (Eileen Brennan), Professor Plum (Christopher Lloyd), Miss Scarlet (Lesley Ann Warren), and Mrs. White (Madeline Kahn). Two additional servants, the Cook (Kellye Nakahara) and Yvette, the maid (Colleen Camp), assist Wadsworth as he informs the guests that they have been gathered to meet the man who has been blackmailing them: Mr. Boddy. When Boddy turns up dead, however, the guests must try to figure out who killed him so they can protect their own reputations and keep the body count from growing. ~ Brian J. Dillard, Rovi
One thing that got me hooked about this movie, other than the actors is this comedy, is that director Jonathan Lynn ended up creating multiple endings that mimic the way the board game could end.  There were three separate endings that were filmed and depending on the theater you went to, you would get a different ending.  Each ending featured a different killer, murder weapon and location in which it took place and that is the sort of things that catches my attention.  Clue really captures the thing that makes playing the classic game enjoyable and that is offering up multiple variations on the ending.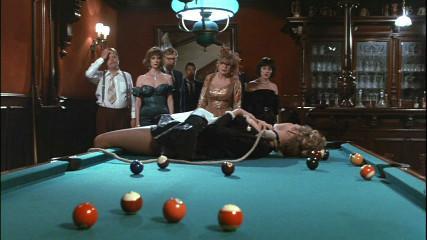 If the hook of different endings doesn't get you interested, the cast of actors in this movie is amazing.  Tim Curry, Michael McKean and Christopher Lloyd are the standouts in the comedy genre while Lesley Ann Warren and Eileen Brennan do an incredible job at conveying comedic roles and paranoid thoughts about who the killer is.  It's a film that has everyone looking over their shoulder and the accusations start flying as quickly as the jokes are said.
That don't really make movies like this anymore, actually I take that back since there is a remake in the works of Clue since Hollywood is completely out of ideas and Battleship is poised to start a new trend.  If you want some campy comedy with an interesting twist to storytelling, Clue is a must.  It's the sort of movie that can only be made in the 80s, although it will get a remake next year.  Check it out if you haven't and enjoy it for what it is.