Oh Kevin Smith, truly an artist of the slacker generation, but you know, he does have his moments of brilliance.  I am an unapologetic fan of Kevin Smith.  Whether it is his nerd centric writing, vulgar humor, and minimalistic technique, there is something utterly enjoyable about his comedic work and engaging scripts.  Often times he has detractors that state his hackiness and childish dialogue, and I tend to to agree in a few instances in the reliance of vulgarity being a centerpiece sometimes, but he does have range.  He has the ability to tell a story that is both firmly rooted in sincerity and maturity, plus throw in a dick joke for a good laugh.
Ben Affleck stars as Holden McNeil, a New Jersey comic book writer who is roommates with his best friend and professional partner, artist Banky Edwards (Jason Lee). Their hit comic book series, "Bluntman and Chronic," is loosely patterned after a pair of acquaintances, Jay (Jason Mewes) and Silent Bob (played by Smith), two characters already familiar as supporting players in several Smith films. Into Holden's life comes Alyssa Jones (Joey Lauren Adams), a lesbian and fellow comic book creator who quickly becomes a close friend, although Holden is powerfully attracted to her. Eventually, Alyssa realizes that she is attracted to Holden as well and they begin a physical relationship, much to the consternation of Banky, whose ire over losing his best friend to a lesbian seems to border on romantic jealousy. After he learns something about Alyssa's sexual past, however, Holden's immature response to his new knowledge destroys both his romance with Alyssa and his friendship with Banky. (source)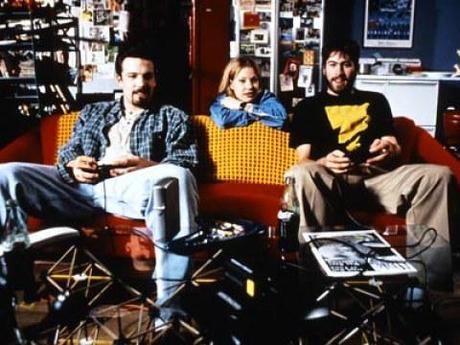 So putting aside the fact that the movie hinges on Ben Affleck turning a gay woman straight, this is one of Kevin Smith's better film.  A raunchy comedy that a strong tone of dramatic conflicts between the trio in the film, Chasing Amy aims to pull at the emotional strings of love and relationships, even if the circumstances are a bit weird.  I mean, how often do you hear or see a guy or girl turn a gay straight in a relationship?  All that aside, the story and emotional connections that happen in the film feel real and honest and you have to appreciate that.
Chasing Amy manages to mix together biting humor and dramatic story telling.  It still has all the trademarks of Smith's writing like the comic book humor, raunchy talks about sex, but there is a sense of maturity when you see the interactions with Affleck and Adams going through the motions of a friendship and revealing of requited love.  The emotional outburst and feelings all seem personal and real, adding more to the usual Smith fanfare.  It manages to be poignant and touching, while still maintaining the Smith feel of humor.  He can do serious films and Chasing Amy is by far and away his most dramatic turn.
For a lot of people, Chasing Amy kind of stands apart from his filmography.  While still rooted in the Askewniverse with his familiar characters and call backs to previous events in Clerks and Mallrats, Chasing Amy feels like a complete movie with an emotional clutch and that slacker humor we have come to know and love.  Amazingly enough I even went out of my way to buy the Criterion production of the film, a high watermark for films.  Chasing Amy has a little bit of everything for all Smith fans.  If you want humor, you got that crude humor there.  If you are looking for a branching out in mature writing, Smith delivers with some emotional scenes.  And if you just like to enjoy familiar faces and a good film, Chasing Amy is a solid choice.