I typically try and stay away from political thrillers bit too much, usually because of the heavy handed tactics and message that is more or less bludgeoning you over the head at every scene.  I can understand the meaning behind it, I just don't need to sit through a political debate for two hours when I want to watch an engaging movie.  There are some films that inherently use the political or social agenda to their advantage to make a statement, but too often films fall into this habit.  If a director can find a topic of interest and craft a film around a particular agenda or idea, I can appreciate the skill involved in it.  It becomes educational and entertaining while not diminishing the effective message or feel that they want to convey.  Today's film is a touchy subject about the effects that the apartheid had on a nation along with the blurring of the line between terrorism and freedom fighting.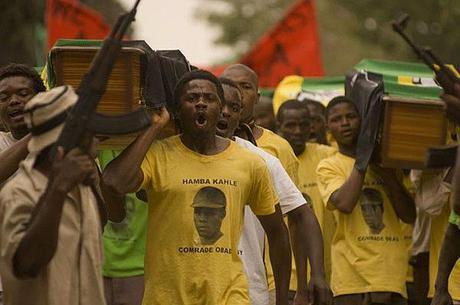 An apolitical South African oil-refinery worker and soccer coach is forced into terrorism as a means of fighting back against the brutality of the apartheid regime in director Phillip Noyce's dramatic look at the life of one-time political prisoner and freedom fighter Patrick Chamusso. In the 1980s, Patrick (Derek Luke) and his wife Precious (Bonnie Henna) lived a peaceful life until one fateful day, when on an overnight trip with his team, Patrick is singled out as the prime suspect in a bombing at the refinery. Placed in solitary confinement, with his wife and family brutalized by government agent Nic Vos (Tim Robbins), the young family man is eventually cleared of charges, but his life is in shambles. Devastated and distraught, Patrick soon begins working as a rebel fighter and political operative for Nelson Mandela's African National Congress. As the oppressed country's powerful apartheid regime continues to torture and torment its citizens, the now-radicalized Patrick must disappear from his family without a trace and go undercover if he is to aid in toppling the system that destroyed his family, and forever changed his outlook on the world. ~ Jason Buchanan, Rovi
Catch a Fire brings together a balance between apolitical messages along with a strong story and nuanced acting from the two leads of the film, Tim Robbins and Derek Luke.  The political climate of South African apartheid nation is always prevalent and becomes the driving force for both sides of the story.  The whites of South Africa are determined to stop the violence, even if it means that their tactics become brutal in terms of hitting both the guilty and innocent people.  Luke plays real life activist Patrick Chamusso, a man who eventually became what the authorities pegged him to be.  It attempts to explore the environment around the circumstances for the conflict between Patrick and Vos, which is tense as their conflicts are written very well.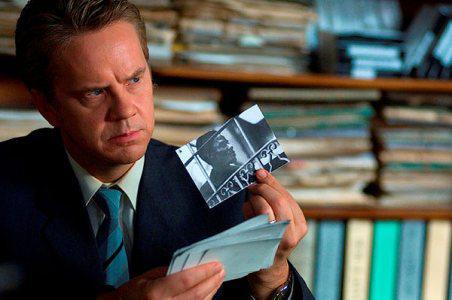 I particularly enjoyed Derek Luke a lot in this film.  He was able to clearly show this definite transition from happy family man to disenfranchised freedom fighter that becomes the very thing that the authorities pushed and accused him of being.  The film tries to pose the idea that with enough pushing from the oppressive regime, even the good go bad over time.  Whether or not he would have done this on his own, the clear line crossing came from the punishment of his family that opened his eyes to the injustices happening around.  Luke brings that cagey disposition to his acting as he becomes steeled in his ways after being subjugated to harsh tactics by Vos and his crew.  The change in mentality is sudden and apparent, but also very powerful and moving.  He compels you to be involved in his plight, almost swaying you to the cause.
I don't want to disparage Robbins' performance, but it is a tactful skill he has to play a suedo villain.  He can be methodical and calculating, but also able to make you see what he sees.  Catch a Fire is a very well done thriller that manages to introduce a lot of context and subject matter into a film that is peppered with scripted action scenes.  While I appreciate a good action scene, I think it kind of detracted from the film when a gunfight is just there.  I am not sure if that is how the actual story plays, but if it does, it just seemed a bit out of place.  Again, I can't blame director Phillip Noyce for that since the rest of the film is tense and well paced.  Really one of the strongest films to come out for Derek Luke and he turns in a fantastic performance which cements my enjoyment of the film.  It makes a commentary on the political climate of the time by using the setting to its advantage and not being so heavy handed.
*images via RottenTomatoes