I don't want to keep harping on Eddie Murphy and his recent filmography, but there is some gold that I keep coming back to and mining from his career.  I can look past the fat suits, family friendly comedies that hamper his comedic talents, and even more fat suits, as there are some rather strong, memorable movies that he has done.  Bowfinger is one of those movies that I put up there as one of his better movies in his storied career.  Placing his comedy talents with that of Steve Martin already have me sold on this movie even before I saw it back in 1999.  But what makes this memorable for me, besides the talent that is on board for the movie, is that Bowfinger is really a strong parody of Hollywood filmmaking and the industry itself.  A kind of smack in the face of movie making that calls out the ridiculous process of movie magic and the ability to get shit made in the sycophantic world of celebrities, big shot distributors and those that worship at the feet of the industry to make it someday and somehow.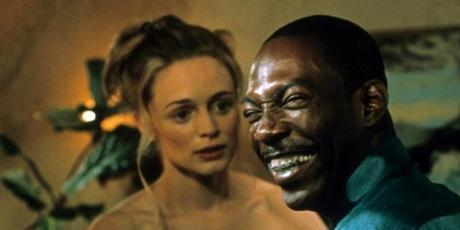 Bobby Bowfinger (Steve Martin) has struggled for years to make it in Hollywood with no real success; he's convinced that he has to make his big break soon or it will be too late. Bobby has a script, and he has a cast, including an ingenue straight off the bus from Ohio (Heather Graham), a one-time regional stage star who fondly recalls her brief moment of glory (Christine Baranski), and a hunky aspiring matinee idol (Kohl Sudduth). He also has a young associate named Dave (Jamie Kennedy), who has a low-level job at a movie studio as a gofer — which means that he has keys to every part of the lot and can "borrow" whatever they need. All they need is a star, but without any money, how do they get one? Kit Ramsey (Eddie Murphy) is a leading action star, and he is obviously beyond Bowfinger's budget. But Bobby has an idea: what if he tricked Kit into appearing in the film without his knowing it?  ~ Mark Deming, Rovi
Alright, so this isn't the barnburner satire of the Hollywood machine, but it does take a lot of loving pot shots at the industry itself.  Martin did an amazing job with the script and the care to place all the right people into the roles needed to sell the idea of a parody film that took itself seriously.  All the little elements of the big Hollywood film is at play from the aging star hoping to make it big, the fresh off the bus new girl in town, and the big picture actor who sells the film itself.  All these little elements from the creation of the fake movie, to the stars and industry jabs all make up a solid film that brings it all together.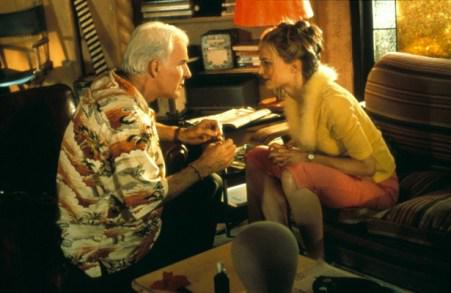 The plot is something that caught my eye in terms of making a film without the knowledge of the main actor knowing he is in it.  It descends into this madness and paranoia for Eddie Murphy who does an amazing job playing two different roles.  This is the sort of movie that plays to his comedy strengths, having him just let loose and be funny and be timely with his actions.  It all sort of fits nicely into this movie with Martin's smart writing and directing.  Seeing Murphy act along side Martin, who is phenomenal in this movie, is a real treat as both play off one another and the more direct comedy of Murphy contrasts nicely against the zany Martin.  It was great to see Steve Martin be himself in a sense, playing a wacky character that suits his past roles in previous films.
Bowfinger is an honest, funny look at Hollywood productions under a small scope. You have the hackey producer trying to make a movie anyway he can and the familiar actors that populate a lot of movies.  A small meta commentary on filmmaking, but a funny one that has some bite to it.  All the parts of the movie end up solidifying the film in place, as if you take one element away, the film does hold up that well.  The story might seem thin on the surface, but then again you are watching a movie about a guy making a low budget movie without the knowledge of the lead actor.  It keeps pace with the laughs at the right time and the off kilter comedy keeps it refreshing and fun to watch.