This is what I am talking about.  Nothing like some all out, Hong Kong wirefu to get the week going.  Frankly my day hasn't been spectacular, but I know what cheers me right up, watching Jet Li be a badass in a Hong Kong Kung Fu spectacle.  Black Mask is one of the more overlooked films in his careers as it was made in 1996 and he was just starting to get his legs into major motion pictures especially with his upcoming role in Lethal Weapon 4.  It is as stylish as they come with the action and thin story line, but I just want to see some fancy fight scenes and lots of them.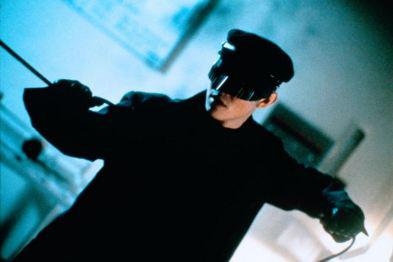 Li stars as Tsui Chik, leader of Squad 701, an elite commando team of genetically-engineered super-soldiers. When the unit was deemed a failure because of mental instability in some of the test subjects, the project was disbanded. Tsui now lives quietly in Hong Kong, masquerading as a shy librarian whose only friend is a cop (Lau Ching Wan). When some drug lords begin turning up dead, Tsui dons a black mask and hat to investigate the slayings and learns that his former Squad 701 comrades, led by psychotic Commander Hung (Patrick Lung), are plotting to take over the drug kingpin's illegal trade. Among their number is Tsui's ex-girlfriend Kaelin (Francoise Yip). ~ Karl Williams, Rovi
I love the superhero feel of the film with Jet Li acting like a lone Kato in the film.  What kind of sets this film apart from all the other Hong Kong action flicks is the involvement of three amazing people in the film.  Jet Li, who is arguably one of the best action stars around, martial arts anyways, super produce Tsui Hark, who has gone on to some fame with martial arts film and last but not least, Woo-ping Yuen.  If you aren't familiar with Yuen, well I am certain you have seen some of his movies that he has helped out in as a fight choreographer.  Things like Kill Bill, The Matrix, Iron Monkey, and every major kung fu film out there.  He makes fight scenes memorable and unique in everyone of the movies that he lends his talents to and creates martial arts magic.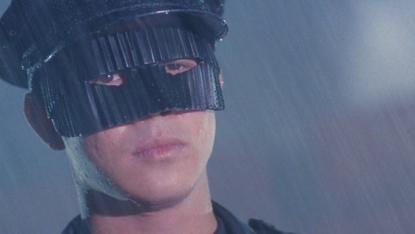 So with those three elements combining together in one movie, Black Mask doesn't disappoint on the action.  While the story and acting are "meh", it's down and dirty fight scenes that pretty much set it apart from anything else.  You got Jet Li as a super soldier, impervious to pain and ridiculously strong, flying around and dispatching dozens of guys without breaking a sweat.  With the bad guys also being super soldiers like Li, this makes for fairly intense one on one fight scenes where each guy doesn't give up a lot of ground.  You get fancy footwork and high flying action and gorgeous looking fight scenes.
There is a kitschy element to the movie, with a undercurrent of hip hop and ok voice work for the dubbing.  It kind of adds a different flavor to the movie, at least the American version does.  While I have seen the original cut of the film, I do prefer the Western version of the film and the infusion of some hip hop undertones.  The dubbing it alright, nothing really to complain about, but the action is what you want to see.  A solid, entertaining Hong Kong treat and one of the more overlooked films in Li's career.  Check it out if you can, especially if you are a fan of martial arts movies.
Advertisement