Class is in session bitches, prepare for crunkin 101 and I hope you have your juice boxes ready.
Are you fucking kidding me?  I thought the entire dance crew battle movie trend was all twerked out, but Hollywood you manage to fucking amaze me once again.  It's You Got Served, but for kidz, with a z bitch.  You know those Kidz Bop albums that are more kid friendly songs of popular music, well this movie is like that.  I am fucking stoked that this movie came out and I can talk about how utterly hysterical this movie.  So if you love dancing and serving people or whatever, then kid ready for kid's sized dance crew battles in the playground world of Battlefield America.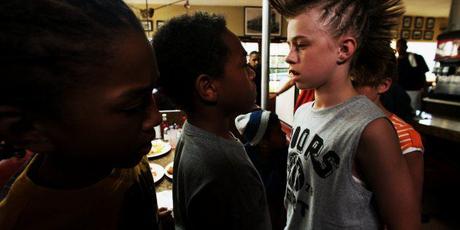 A steady look at the underbelly of the youth battle dance culture in Long Beach, California. Sean Lewis, a young, charismatic, successful businessman finds himself in the mix with a bunch of disheveled misfits Bad Boys, who have virtually no dance talent. Realizing his dilemma, Sean brings aboard a professional dance instructor to ease his responsibilities to these kids. Meanwhile, he finds himself falling for Sara, who runs the community center where the kids hangout and practice their moves. With Sean motivating them, The Bad Boys find the confidence to rise to the challenge and defeat their nemesis The Bang Squad, at the annual dance battle competition Battlefield America! — (C) Cinedigm
BWAHAHAHAHA!  This movie is terrible and I love it for that.  It is the distilled version of all those dance movies where the one underdog crew gets served by the other dance troupe and then training montages, in-fighting and then the ultimate showdown of dancing, twerking, crunking, whatever happens.  I never pay any attention to those movies cause they are boring as shit, but holy hell did I catch this movie as soon as I could.  This kindergarten version of Step Up exemplifies the ridiculousness of this sort of genre.  The pint sized version of this movie amplifies all the tropes that are found in similar movies.  I am not sure if I am supposed to take it seriously or watch it as a parody.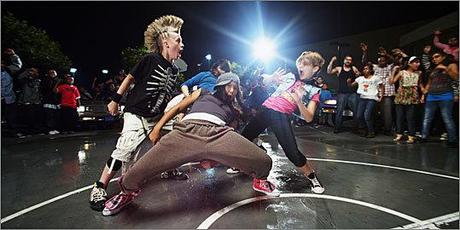 The best thing I can say about this movie is that it's incredible….in a bad way.  First, what fucking underbelly exists where kids are dressing up like Jamie Kennedy in Malibu's Most Wanted and battling one another in underground clubs?  Am I supposed to believe that Long Beach is apparently the battleground of an unknown war between little kids?  Someone get Ken Burns to make a documentary about this.  Second, it never ceases to amaze me that the white kid dance crew are always the villains in these movies.  Is it because their affluent parents can afford professional dance training and expensive crunkin clothes that make them better?  These are questions that need to be asked.  Also WHERE THE FUCK ARE THE PARENTS AT?!  These kids are starting fights, dance battling, and rolling hard on the street like they are feared gang.
I can't even begin to take this seriously as a movie.  The sad thing is that the kids are talented dancers, but they are such exaggerated caricatures of other dance movies that it becomes a parody.  I mean the kids in the movie are repping cornrows, a killer Mohawk, emo bangs, and all sorts of other ridiculous get ups.  There is so much camo clothing in this movie, further letting you know that this is a battle.  The kids are just spouting slang and C-walking all over the movie that each scenes is laughable in it's own right.  I realize it's kids that are acting, but I am thankful for the director not giving a shit and letting them mug it up for the camera.
This is a fun movie to watch just because it's a miniature version of You Got Served and these little kids are ill. Battlefield America is definite cult classic in my opinion cause you can't even make this sort of movie premise work without it being a laugh riot.  It's a pure cheese movie with a plot that I barely remember.  I assume they are battling for playground control or a Toddlers and Tiara trophy or something.
Rent this if you can and just sit back and enjoy the movie.