What if I told you that Europe has its own Conan the Barbarian series?  What if I told you this series was mildly successful enough that it warranted three additional sequels to its name?  What if I also told you that each of the films in the series were also as ridiculous and cheesy as the original Ator?  Well folks, thanks to the Italians and the success of Conan the Barbarian that one faithful month in 1982, the Italians decided they needed to cash in on the who swords and sorcery game with their answer Conan.  What we got is nothing short of terrible, but truly amazing z-movie knock-offs.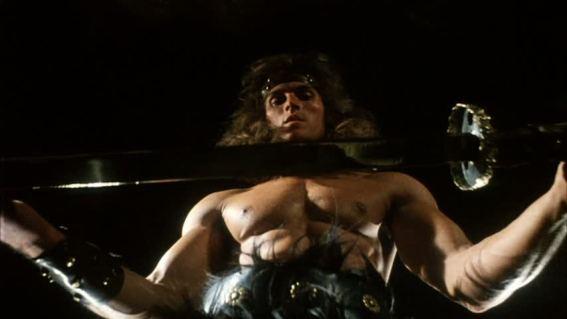 As the film opens Ator asks his father for permission to marry his sister. Ator's father tells Ator that he is adopted and so he can marry his sister if he likes. The rest of the film deals with Ator's sister being kidnapped by the high priest of the Spider Kingdom and Ator having to go on an epic quest to save her.
God sweet Krom, these are just the most horrible looking movies ever.  I mean we are looking just about everything but the action being bad and even the action sequences are bad in a good way.  Miles O'Keeffe portrays the burly barbarian warrior Ator, who has such a weird back story thanks to the missing fragments of a plot that just seems like it was put into a blender and then rearranged or made up as it goes.  For instance, the disappearing birthmark they go on about apparently has a big significance in terms of the Spider Kingdom in the film, but you don't know about this until he is battling in the Spider Kingdom and it all of a sudden becomes important.  Why more is not explained is beyond my comprehension, but that is just a small problem in an otherwise massive bad good movie.  The movie is just riddled  with these massive leaps in logic that you just have to go with it and brings about a sort of campy quality that I love.  They knew what they wanted to make, but just decided to skip on the important exposition or setup.  I mean they have an entirely too long prologue that is presented with this booming voice of god that just won't fucking end.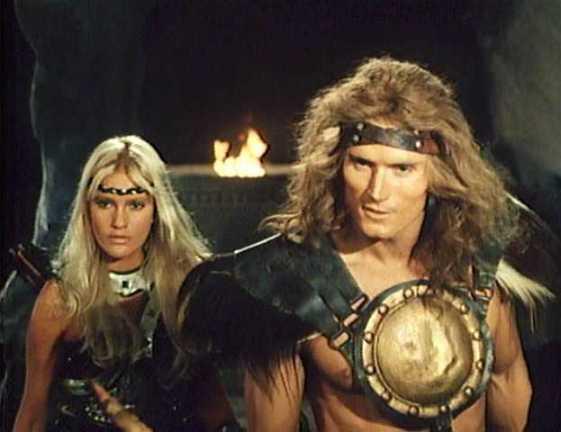 Ator manages to blend together the whole monsters, demons, sword play, and sorcery that made the Conan movie successful.  Now whether this is a parody or earnest try at making their own Conan, the outcome is surely comical and enjoyable.  I might rip on this movie a lot so far, but let it be known that I love every second of it.  It's a fun ride through foreign knock-offs and Ator brings the heat with its action sequences, low budget effects and low budget costumes.  The fights are just about as over the top and cheesy as you can expect, with rubber monster suits and plenty of grunting and limb slicing galore.  You can see where I would say, most of the budget went to while still leaving a little bit for set design and not much else.
The story of the film, I wasn't sure what was going on really with the whole Spider Kingdom and the birthmark and the weird incest related dialog that popped up very briefly.  Too many different threads in this story and plenty of throw away things that you just get assaulted with everything cheesy instead of having a coherent story.  I mean what do you expect with such caliber performance and script writing?  The fact that this got several sequels is amazing and does provide a lot of enjoyment for those that want to continue watching the Ator series.  I was lucky enough to see this in 35mm and frankly couldn't be happier with what I saw.  Oh one last thing that makes this movie the best Conan knock-off and possibly better than Conan….they have a little bear cub sidekick.  Suck it Arnold!