I don't watch a lot of TV. I don't really watch a lot of movies either. I never have. That's just not what I do with my leisure time. I know there are a lot of people that love watching movies, know all the movie lines and can name all the actors. My friend's boyfriend is one of those. The other day we were talking and I mentioned to him that I had never seen
Jaws
.
He thought I was crazy, a weirdo, someone who needed to be schooled immediately about fish and boats and Richard Dryfus. He set up a movie night so I could come over and be a real American, so I could see this movie that Everyone else had seen years ago (particularly if you are my age).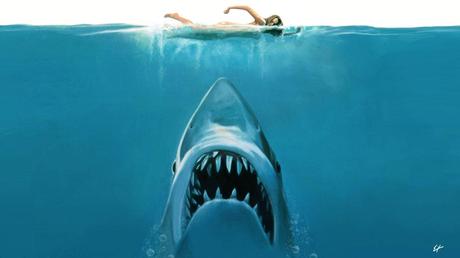 My boyfriend also made me watch The Godfather (I) in the same kind of "You must watch this! This is a classic movie" attitude as my friend's boyfriend. I thought it too was just okay. I still have not seen II or III. I am in no hurry.
Now, I did grow up in the 80s in America, so yes, I have seen Princess Bride, Spaceballs and The Star Wars Trilogy; I wasn't born under a rock, but I have missed out on some of the movies that other people consider classics. On this list of the
Top 100 80s Movies
, I have watched 25 of them. Of the
100 Greatest 70s Movies
, I have seen 13. Some favorites: Monty Python and The Holy Grail, Airplane, Grease, The Breakfast Club, and When Harry Met Sally (and not on the list: Goonies). 
What was your favorite movie growing up? How many of the movies on the top 100 lists have you seen? Are you a movie buff?