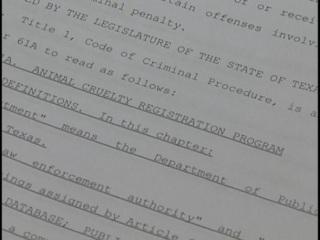 Texas draft of animal abuse registry law: image via newswest.com Animal abuse registries are gaining support throughout the country since 2010 when Suffolk County, New York became the first place in the nation to approve one.  Two other NY counties followed suit, but state laws are yet to be on the books - anywhere.
Indeed, following the model of "Megan's Law" that deals with sex offenders, legislation has been proposed in many states to help end animal abuse.  In most states, however, such laws have not passed; some consider the registries too expensive to keep.  
Now, 8 states - Maryland, Colorado, Arizona, New York, New Jersey, Tennessee, Florida, and the latest, announced today, Michigan - want to present legislation again to post the faces, names, and address of animal abusers on lists, much like those of sex offenders.
The Suffolk County registry keeps data on an offender for five years and requires pet stores and animal shelters to check the list for patrons wishing to purchase or adopt an animal. When the legislation passed, the County Society for the Prevention of Cruelty to Animals Chief, Roy Gross, told a newspaper, "Most serial killers began as animal abusers.  It's a known fact: people who hurt animals hurt people too." (via)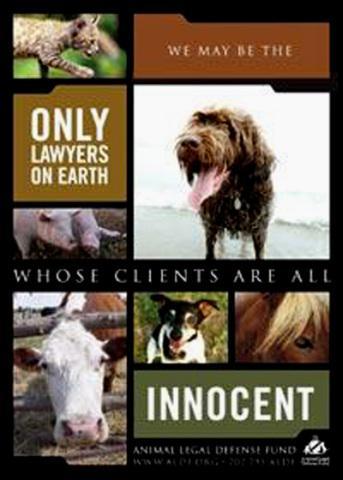 Animal Legal Defence Fund Poster: © ADLF

This sentiment has been voiced over and over as a rationale for keeping a registry. Even in the last few days, Rep. Harvey Santana of Michigan said in an interview, "Look at the serial Killers that we've had in this country. Haven't they all started off abusing animals?" (via)

Though torturing and killing animals, whether directly or through the training of animals to kill each other, may lead to crimes against humans, most leaders and supporters of animal abuse registries are concerned about the present victims, the animal victims, who suffer at the hands of abusers.

The Animal Legal Defence Fund (ADLF) helps states and localities prepare legislation and actively lobbies to end animal abuse, provides free legal assistance to prosecutors handling cruelty cases, establishes programs to defend companion and wild animals, and provides excellent resources to the public.  It has prepared a model Offender Registration and Community Notification for communities to adopt to animal abusers in their communities.

The ASPCA has several specific steps that you can take in your own area to recognize, prevent, and report cruelty.

Sources: LSJ.com, Opposing Views, ADLF, LATimes, WSJ Law Blog, ASPCA