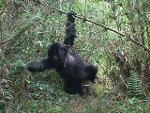 Mountain Gorillas are one of the rarest and most critically endangered animals in the world and are only found in two regions in central Africa which are the Bwindi and the Virunga Massif forests that span areas of Uganda, Rwanda and the Democratic Republic of the Congo.
However, intensive conservation efforts in the region over the past decade have enormously helped this dwindling species, with the latest population count having increased to 880 individuals which is nearly 100 more than when 786 mountain gorillas were counted in 2010.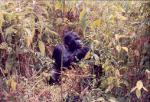 Over the years, mountain gorillas have been severely affected throughout much of their isolated range due to increasing levels of human activity. Habitat loss in the form of deforestation, civil war, poaching and disease have all led to the mountain gorilla becoming one of the world's most critically endangered animal species.
Today, many of the mountain gorilla groups are getting used to increasing human presence not only from conservationists, researchers and scientists, but also from the increasing number of tourists that go into the forests to see them. The revenue from these visitors has ensured that the animals are more closely monitored and has also benefited community projects in the area.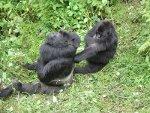 Mountain gorillas are the only large primates whose population numbers are actually increasing today, however, these intensive conservation efforts need to continue in the future to ensure their survival and protect these gentle giants for many generations to come.