52 Places to Go: Week 19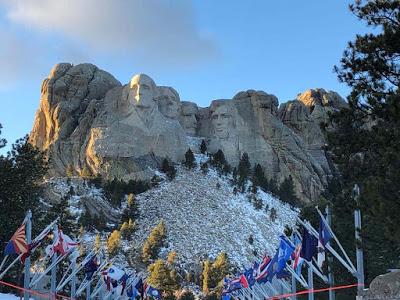 Mount Rushmore, South Dakota

Ever since my childhood babysitter returned with tales of working at
Mount Rushmore
one summer, I've had a fascination with this iconic National Memorial.Chances are you won't have a business trip to the area or have it be "on the way" to another destination given its western-central South Dakota location so it takes some proactive planning to make a visit happen.We had to go out of our way to make the visit during our recent pandemic, cross country road trip as we drove from Connecticut to Utah, where we spent our 2021 winter months.
We arrived on a cold, late December day, which was favorable for avoiding crowds.But it also meant there was off season construction and the Presidential Trail that goes part way up the mountain for a closer view was closed due to ice and snow.Nevertheless, the granite sculpture did not disappoint, and the Visitor Center provided a fascinating overview of the history and process that produced the remarkable feat, completed on October 31, 1941.
The narrative leading up to its debut goes back seventy-four years, when John Gutzon del la Mothe Borglum is born and then goes on to study art in Paris and New York.In 1885, a New York attorney, Charles Rushmore, goes to the Black Hills (South Dakota won't be a state until 1889) to inspect mining claims.According to Travel South Dakota, the story goes that when Charles asks his guide what the mountain is called, he replies, "It's never had one…till now…we'll call the damn thing Rushmore."
 Flash forward 34 years and now South Dakota is old enough to have an historian, Doane Robinson. He approaches Gutzon Borglum, now a well-known sculptor who has been working on Stone Mountain in Georgia, about carving Old West heroes in the Needles, which are granite formations not far from Rushmore.Borglum, however, has a different vision.He chooses Mount Rushmore for its size, morning and midday light, and fine-grained granite.And he proposes the subjects be U.S. presidents to gain federal funding and support.Borglum abandons his work on Stone Mountain to focus on Mount Rushmore, leaving Sculptor Henry Augustus Lukeman to finish Stone Mountain.
The presidents are chosen for the Memorial based on their significant contribution to the founding, expansion, preservation, and unification of the country.George Washington, of course, because he was the nation's founding father.Thomas Jefferson not only authored the Declaration of Independence, but he also signed the Louisiana purchase that doubled the size the country, ultimately creating South Dakota and 14 other current states.Borglum greatly admired Theodore Roosevelt, who helped to link the Atlantic and Pacific oceans with his negotiations of the Panama Canal and who championed conservation legislation that set aside millions of acres of public land.Borglum admired Lincoln so much for issuing the Emancipation Proclamation to end slavery and his dedication to end the Civil War and restore the Union, that he named his son and after him.
While Gutzon Borglum lives to see most of his ultimate life's accomplishment finished, he sadly dies about 8 months before its completion.His son James Lincoln, also a sculptor as well as an engineer involved in the project, oversees its completion and dedication.Granite erodes at roughly 1 inch every 10,000 years which means the Presidents' noses should last another 2.5 million years and the basic shape of their heads for up to 7 million years.That is quite a legacy for these sculptors, their workers and the funders and supporters for this inspirational project.
Sources:National Park Service, Travel South Dakota: 75 Surprising Facts About Mount Rushmore
All text and photos copyright Caroline Arnold at The Intrepid Tourist