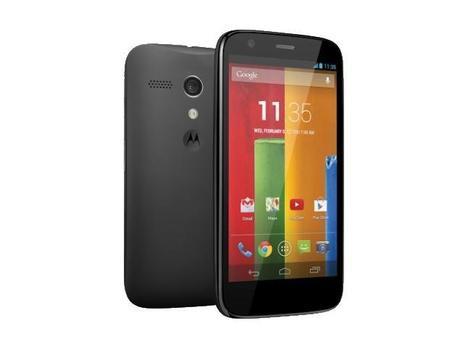 Moto G Overview

Motorola has alarmed the masses by coming back in the hit smartphone segment with a bang. The once rejected Motorola handsets have become a charm for all. The reason behind this drastic and massive change is its all new Moto G. With just a mere presence of two to three months, Moto G has indeed captured eye balls and purchase decisions of the masses. With excellent specifications, beautifully carved looks and affordable price range, Moto G has indeed created a tough competition for brands like Sony and Samsung.
Technical Specifications:
Motorola has strived hard to come up with a compact and sleek looking smartphone in best price budget. Creating a presence amongst the established players like Samsung, Sony, etc… it was quite a challenge for Moto G to pierce well through these competitive brands. But an exceptional smartphone Moto G indeed got successful in doing so. Let us understand the technical specifications in greater detail.
1. Dimensions: The dimensions of Moto G have been carved to make it sleek compact and light weighed smartphone. Moto G measures at 5.11 x 2.59 x 0.46 inches and weighs at 143 grams. Such excellent measurements make it a light weight, thin and easy to carry smart phone.
2. Display: Flaunting a 4.5 inches screen, Moto G comprises of an IPS LCD capacitive touchscreen with 16M colors. The screen resolution of Moto G is 720 x 1280 pixels which makes it quite bright and clear in video and image viewing experience. With the latest Corning Gorilla Glass 3, Moto G places it exceptionally well in the category of latest smartphones.
3. Storage: The storage in Moto G can be disappointing factor for the users. There is no memory card slot in the device and so it cannot equip any memory card in it. However, Moto G is available in two internal memory versions i.e. 8 GB and 16 GB which unfortunately cannot be extended to next level. The 1 GB RAM is also less to support Android Operating System Apps.
4. Connectivity: Moto G supports connecting option of GPRS and EDGE. The files can be shared and transferred with the help of the latest version of Bluetooth 4.0 and USB i.e. microUSB v2.0. The phone can well connect via internet as well. It supports WLAN with Wi-Fi 802.11 b/g/n.
5. Operating System and Processor: Upgrade for Android OS 4.4.2 KitKat is an attracting feature for the Android lovers. Currently the smartphone comprises of Android Jelly bean version. Moto G has indeed given a tough competition to the smartphones in the same category. With respect to processor, Moto G comprises of Quad Core 1.2 GHz Cortex A 7 processor and chipset of Qualcomm Snapdragon 400.
6. Battery: Moto G is equipped with Non Removable Li-Ion 2070 mAh Battery. With a talk time of 24 hours, the battery indeed has a great battery life.
7. Camera: Camera forms one of the key criteria for selecting a desired smartphone. But when it comes to Moto G, it indeed becomes a disappointing feature for the onlookers and the buyers. The front camera of Moto G is 1.3 MP while the rear camera is of 5 MP. In comparison to other smartphones in the same price bracket, consumers can avail way better options with respect to camera.