To be honest most of the people these days are using website builders to create their websites. Mostly because they do know the hard work behind coding HTML, CSS and PHP.
Coders have surprised by the ease of designing stunning websites with professional and quick website builders. Although few coders always love to code their site themselves, but most of the coders use website builders.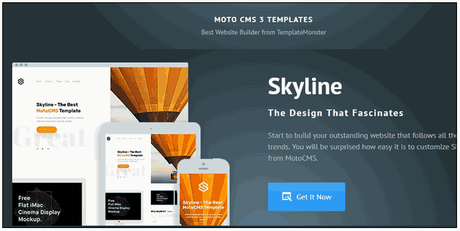 Now, If you are the one who wants to create a professional and responsive site with the help of website builder. Then you can check out MOTO CMS 3 website builder because this is an all in one website builder which provides stunning templates to design your website.
If you don't know about Moto CMS 3 then just go through this review.
Moto CMS 3 is a quick website builder tool which is fast in creating professional websites. The new version of Moto CMS 3.0 makes it even simpler to create responsive websites on all devices such as tablets, mobiles, desktops, and PCs.
You don't have to know programming to design websites anymore. With this efficient tool, you can make use of drag and drop options to create eye catching and the responsive site quickly.
Not only that this moto cms three is having lots of niche specific design templates for your website. All those templates are responsive and creative templates. You can find more than 2,500 read made templates in this Moto CMS 3 website builder.
Apart from these functionalities and templates, this special tool is also having valuable installation assistance from Moto CMS 3 team. This moto cms also has 24/7 customer care support, so you don't have to worry about anything.
If you want to try this, then you can try Moto CMS 3. Before buying let me take you to our review which is written especially for you to decide whether it is good for you or not.
I have included all my experience with this quick website builder in this post. Here by seeing this, you can decide what you want to do with this moto cms 3.0.
Firstly, when we talk about the moto cms 3.0, I found this very easy to use.
Although most of the website builders are easy to use but this moto cms three is having much improve functionality. In this website builder, you can easily access all features from the admin panel itself. You don't have to be a techy to understand this admin panel.
For better experience, moto cms team has kept various tips which help you to easily understand the interface. To start making a website all you have to do is read the tutorial and create your own website. Along with that you can quickly upload your web template files and install them on your hosting platform within minutes.
This moto cms is having a couple of the previous version where flexibility is somewhat less. But in the new version of moto cms three, the flexibility is simply awesome. You can simply say that these features aren't there in previous versions.
Mobile friendly templates: This is one of the long awaited features in Moto CMS website builder. The previous version has templates, but they used to have some issues regarding mobile friendly ness, but this moto cms three is not having that problem at all. All the templates are responsive and perfectly optimized for all mobile devices.
SEO features: In the new Moto CMS 3 version you can quickly optimize your website content by doing all the basic SEO. You can quickly change your post title, keyword, add Meta description and so on. Along with these you can also integrate google analytics and google webmaster tools in your website.
E-store: if you are keen to open an online store then you can use this e-store option. In this moto cms three e-stores, you quickly control all your commercial activities right from the website editor as well. That's is what the special feature in this Moto CMS.
In the above paragraph, I have listed best features in the moto cms 3. Now in this features option, I will list out every feature which is offered by the new moto cms 3.
Templates: moto cms 3 is having lots of beautiful templates which you can use to create your website. Depending on your niche and your requirements you can get lots of templates. Along with you can also have widget add-ons.
Design: Moto cms 3 is having three website types one is e-store, HTML, and responsive moto3. Although these are paid templates but they are competent and worthy to use. With these templates, you can get 24/7 professional support as well.
Seo features: New moto cms three is having all SEO options available from its website builder.
Social media: In this new version moto cms offers three widgets to integrate social media sites into your website. To stay connected with the world.
Text Styles: you can quickly change text style, size, color, spacing and more in website builder itself. Along with that, you can use google fonts in this moto cms site builder.
Color picker: color picker is a handy feature which helps you to generate original color set to your web site and also alter one hue elements.
Until now everything is great with moto cms 3 but when it comes to customer support, you will not be satisfied. Although premium support is available for 24/7, but you can hardly find a person to resolve your queries. The free live chat will also take some time, and it might be the unsatisfied factor of this moto cms 3.
Although in some cases they will give quick responses but mostly they will take a lot of time. In those cases, you can figure out your problem in the knowledge base and FAQ's as well.
In this moto cms three pricing is a little bit higher when you compared to the other templates, but they are worthy. Before taking a premium template in this website builder, you can try them by registering to the trial period of 14 days.
When you completed your trail period they will charge $199 for estore website template. Html template for $139 and so on.
Moto 3.0 Template Prices:
Template only -- $199
Template + installation - $248
Template + installation + hosting - $297.
The moto cms is good website builder for all small business. You can save lot of time and energy by using this moto cms 3 website builder. if you are wondering to create website with few minutes with ease then you should use this moto cms 3.