You know how sometimes you see a photo of yourself and you think "Oh, that one's not too bad"? Or is that just me? Am I so lacking in self-esteem that most photos I see of me make me wince?
Anyhoo, I was messing around on my relatively new Mac the other day and came across the I-Photo Booth. It basically uses the camera at the top of the screen to take photos. (You can also do I-movie.) The photos aren't usually that good because you tend to be looking down at the keys instead of at the little red camera light at the top of your screen.....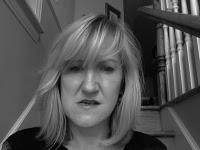 or the lighting is terrible, (because it's your overhead kitchen light.) This is me sitting on the back kitchen stairs because it was a good light from the back garden, but see, I'm looking down and trying to figure out how to operate the thing while not looking down. Fail.
Eventually I started messing around with the effects and striking a couple of poses. The result was one of those "Oh, that's OK" photos, and a bit of fun. I mean I'm not going to stick it in a frame or anything.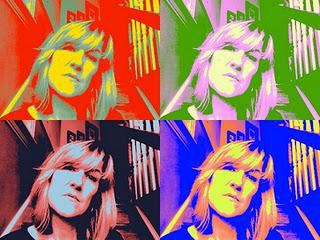 But look, it's fun and arty and stuff, isn't it.
And I did this one - My wannabee Debbie Harry pose.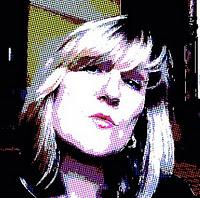 So I sent them to my mother (for a laff, as you do). Guess what she said?
"It doesn't even look like you."
Oh. Well then