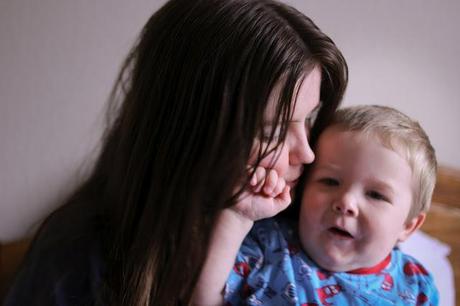 136/366
This is the subject that I could write and write about forever.
Mothering. Being a mother.
It's about many things for me; a messy kitchen (not through choice), struggling and struggling to say 'help', sometimes feeling isolated in my little community of 3, a day stretching ahead and wondering at the end of it 'where did all that time go?' and mostly trying to fit everything into those days. 
Life before Roman; I think about it often but not often fondly. 
My life before him wasn't horrible, it was filled with purpose and with promise - a promise of all the things in front of me. I'm 26 and still so young with that age.
 Life was also easier in a sense that I didn't have to think ahead or worry that I'd spend 9 hours of a journey entertaining one person. In some aspects being a mother is far easier, but also far harder, than I ever dreamed it would be.
He is my life now but he doesn't consume my life - if that makes sense. We haven't spent a night apart but nor do I feel anxiety or pressure to make that happen. When it happens, it will happen just like everything else. Since the day he was born I've been sure of a few things; he has his own set of rules, his own personality and that he was and is loved by many. 
Love grows as your children grow, that's what I know. Even if they are two and a bit years old, squirming on your lap shouting 'CAARRRR!' while you're trying to document motherhood through photography with them. 
Another thing I know? Roman really likes his ride-on car toy ;).