So, these two items aren't exactly on my wish list, since I already own them, but you might want to consider asking for one or both yourself.
As part of my role on the Hallmark Press Pause Panel, I received a box of goodies for Spring holidays (and non-holidays) and I particularly like one of their Mother's Day selections: "Mom and Me: A Conversation To Keep Recordable Book".



This book provides questions on each page to prompt your child, and his or her answers can be recorded. For example: "What does Mom tell you when you're scared or having a bad day?" and "If you could travel anywhere in the world with Mom, where would you go and what would you do there?" Some questions are funny, and some are sentimental, and on the left hand side of each page is a cute kangaroo mom and child illustration. I can't wait to try it out with my girls and record their answers.
I think this would be a great gift for Daddy to pick up and help the child(ren) complete as a terrific Mother's Day surprise.
There are other titles as well that would work for Dads and Grandparents, and they also carry traditional storybooks with the recordable feature.
My kids became a huge fan of the Hallmark Recordable Book when my parents gave them (and my brother's kids) "The Very First Christmas" this year. (My sister-in-law is no considering converting to my holiday-themed bins system after being startled awake too many times this Spring to the sound of my Mom's voice reading "This is a story of impossible things, of a baby and angels, of shepherds and kings" in the next room!)
Another cool gift idea is Mommy and Me matching t-shirts from Lucky Puppy. Maggie and I received the "Wings - Burnout" style (shown below), and the tops are absolutely adorable. They're soft and comfy, and the only caveat I would offer is that ladies who purchase this white style will definitely want to put a tank or some other layer underneath. (Ladies who are not exhibitionists, I mean.)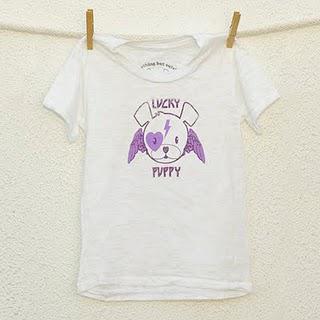 The mom's version is $30, and the child's is $28.  They have tons of other cute designs and products (onesies, dresses, etc.) and a great sale page. They also donate 15% of their online sales to Animal Haven Shelter. Check them out!
Now of course these material things are not important, and what I really and truly want for Mother's Day is to spend quality time with my family.
I mean, wouldn't it look awful if I publicly admitted that the best gift would be a day to myself? What kind of mother would say that?
Disclosure: I received the above-named items for review purposes. Opinions are, as always, my own.