I love baking with Evan, we have a great time doing it together and he seems to really enjoy it.
Last year on Mother's Day, he excelled himself and woke me up with breakfast in bed, baked a cake and cooked a full roast dinner, all of which was superb!
Last week he asked me what sort of cake I would like him to make this year and I told him to decide after looking at some recipes but then coincidentally I was contacted by Waitrose - who asked if we would like to bake some cakes and encourage you lovely lot to home bake for Mother's Day!
We had a choice of four recipes to choose from and I chose my favourite, Delia's Coffee and Walnut Cake whilst Evan chose a Victoria Sponge with Fresh Cream & Strawberries as the filling!
I used my local Waitrose store in Dorchester. I love this shop, most of the staff are really nice and it always so clean and tidy. The selection of produce is very decent for a smaller (in town) supermarket. I am always impressed with the quality of the fresh fruit and veg, which seem to last longer than other suppliers.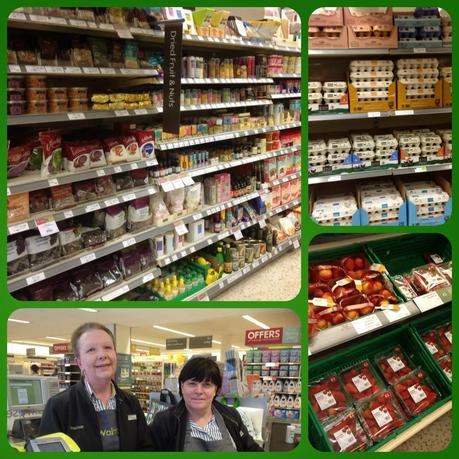 Lin & Steph - Always friendly & happy to help!
We spent Saturday having a great day in kitchen and here are our vlogs to show you how we got along!
I will list the ingredients here but for the full recipe please head on over to the Waitrose page.
Victoria Sponge
Ingredients
250g unsalted butter, softened

250g caster sugar

4 medium organic eggs

250g Waitrose Superfine Self Raising Flour

75ml milk

1 tsp vanilla extract
Delia's Coffee and Walnut Sponge Cake
Ingredients
115g self-raising flour
1 level teaspoon baking powder
115g spreadable butter
2 large eggs
115g golden caster sugar
1 rounded teaspoon instant espresso coffee powder
50g walnuts, very finely chopped
For the filling and topping
250g mascarpone
1 rounded dessert spoon instant espresso coffee powder
1 tablespoon golden caster sugar
1-2 tablespoons milk
8 walnut halves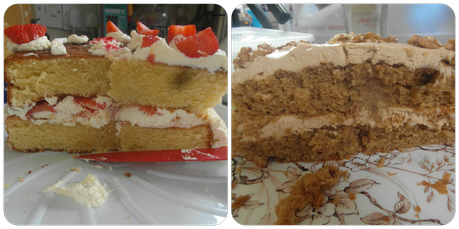 (the black spot is on my lens NOT the yummy cake!)You can find an extensive range of recipes to try on the Waitrose website, with clear and easy to follow methods.
Evan and I had a great time, and it was so nice to spend some quality time with him and ended up with delicious results too!
So what will you all be baking this week or for Mother's Day?
I was not paid to write this post but I did receive a voucher to cover the cost of the ingredients. All the views are my own and an honest appraisal.