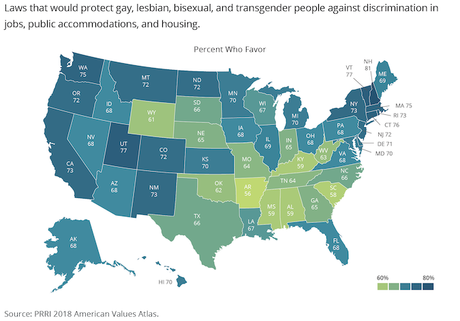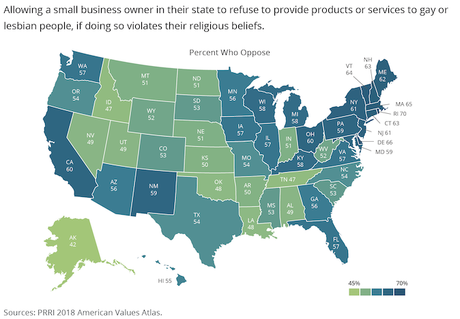 The maps above and the charts below are from the Public Religion Research Institute. They questioned 54,357 adults in 2018, and the results have an overall margin of error of 0.4 points. The results for each state and religious group will be a slightly higher margin of error.
The good news is that a clear majority in every state (top map) opposes discrimination against LGBT individuals in jobs, public accommodations, and housing. And this may surprise you, but so does every religious group (see top chart below) -- even the most socially conservative (like evangelicals and mormons).
It makes me wonder why there isn't a national law (and laws in every state) banning discrimination in those areas.
The bad news is that is not true of every state when it comes to allowing businesses to discriminate against LGBT individuals on the basis of religion (like refusing to sell a wedding cake to a same-sex couple). At least eight states do not have at least 50% opposing this kind of discrimination.
Most religions also oppose this kind of discrimination (see bottom chart below), but two groups want it (evangelicals and mormons). Here we are letting a tiny minority decide policy (a policy of discrimination) for the entire state or nation.
These discriminators claim serving LGBT individuals violates their right to freedom of religion. It does NOT. They are free to worship as they please in the religion of their choice. Asking them to treat consumers without discrimination does not take away their freedom of religion. It just allows them to discriminate outside of their religion -- and in a country of equal rights, that is just wrong.
Our government should not allow this tiny minority of businesses to discriminate using this false claim. We either have equal rights or we don't, and denying rights to any group endangers the rights of all.