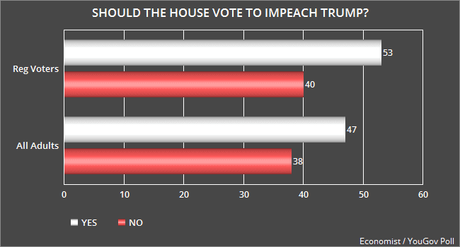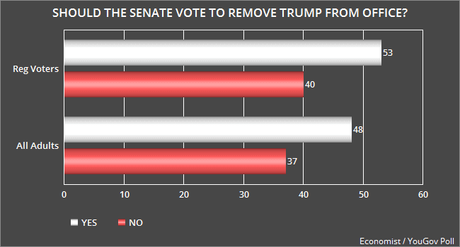 These charts reflect the results of the latest Economist / YouGov Poll -- done between October 13th and 15th of a national sample of 1,500 adults (including 1,136 registered voters). The margin of error for adults is 2.7 points, and for registered voters is 3 points.
Just a few weeks ago, this poll showed a majority of Americans opposed to Donald Trump's impeachment or removal from office. That has changed significantly. Now 47% of adults favor impeachment, while only 38% oppose -- a gap of 9 points. Among registered voters, about 53% support impeachment and 40% oppose it -- a gap of 13 points.
The numbers for removal from office are similar -- 48% to 37% for adults, and 53% to 40% for registered voters. Those are gaps of 11 and 13 points in favor of the Senate removing Trump from office.