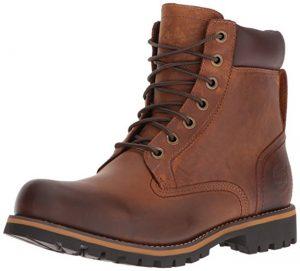 Since we occasionally review footwear, we have been getting emails and calls from guys asking about the most comfortable steel toe boots for standing all day.
Certainly, steel toe work boots are more popular, but we also have boots with different safety toes such as alloy or composite.
The debate about which toe is the best has been raging for a while but I feel that everyone should decide what's good for them. Just consider your work and comfort.
So, what's the most comfortable steel toe work boots? In this post, I will be covering the best work boots for men and also the best women's steel toe boots for standing all day
Before reviewing the best steel toe work boots ( in our opinion), let's briefly look at the different type of safety toes..
These are the traditional options. They also happen to be the heaviest. Then, they conduct temperature so they are not suited for cold environments.
These are lighter than their steel counterparts but they are just as strong. Plus, they still conduct temperature.
Made from either plastic, Kevlar or carbon fiber, they do not conduct heat. They can be worn even through metal detectors.
Why Safety Toes?
Safety toes are responsible for protecting your toes. They prevented countless injuries and are a must-have in many occupations.
How To Select The Most Comfortable Steel Toe Work Boots
If you are a new comer, the abundance of options can be intimidating. Here are the features you should focus on when choosing;
Most use synthetic welt or leather. Welt-construction boots are typically more rugged so they are more durable.
Others are on direct attached method. Such boots are lightweight, more comfortable and absorb shock superbly.
The last method is the cement method. This is the lightest and cheapest option. Cement also has excellent comfort levels.
Puncture Resistance And Anti-Lip Sole.
An excellent work boot should have an oil and slip resistant sole. Remember Slippery surfaces are anywhere.
A bonus of puncture and acid resistance would also be great.
Also, if you do climb a lot, consider shoes with an improved heel.
Many work boots guard against electrical hazards. These should be boots whose components are all non-conductive
Durability is affected by the construction type, material, and overall quality, among others. Our reviews and referrals can help estimate durability
Consider boots boosted with metatarsal guards if you carry heavy objects. They protect a larger part of your feet.
Loggers and Railroad workers should pick boots with calf and ankle support.
Heavy boots are unsuitable if you walk a lot. Avoid them.
Waterproofing is a necessity in some work environments. They're also great if you live in particularly snowy areas..
If you want to wear immediately, check out your boots break in period. Again, our reviews include estimated break-in time so they should guide you.
Remember earlier on, I talked about steel, alloy, and composite toes so also keep the type of toe in mind.
Moving on, here comes our recommended work boot shoes
Best Steel Toe Work Boots for Men.
The following are our recommendations for the most comfortable steel toe boots for standing all day for men:
1. Caterpillar Men's 2nd Shift 6″ Steel Toe Boot.
Caterpillar has a reputation for producing some of the best work boots
And they seem to have shifted gears higher with the release of the caterpillar men's 2 nd shift toe boot.
It is very flexible and super-easy to wear. They feel so comfortable such that running in them wouldn't be an exaggeration.
These welt construction boots have a tough full grain upper and slip resistant rubber-made outsoles
Features
Pros
Cons
They don't have the best heel & arc support.
Verdict
These all-leather ankle-cut work boots with steel toe come with a padded ankle and resilient oil-resistant outsole. They are flexible, super-easy to wear and pretty comfortable.
They always hold their own when matched against the best steel toe work boots.
2. Timberland PRO Men's 6″ Pit Boss Steel Toe Boot.
Situations that require you to wear the best steel toe boots include instances where you may face falling objects or where you are exposed to electrical dangers
The Pit Boss is built with your safety in mind. It jealously guards your feet, is extremely comfortable and is tough on rough terrain.
Impressively, its steel toe construction has a larger toe box than even some of the most comfortable steel toe boots for men
Features
Pros
Cons
Verdict
Good work boots should let your feet play and not many shoes have a roomier toe area than this.
It's Tough as nails, has a roomier toe box, removable sock liners, and a comfortable Polyurethane midsole
Overall, the timberland pit boss is a superstar steel toe boot
3. KEEN Utility Men's Steel Toe Work Boot.
If you want to go for the jugular in your workplace, you need to be armed with all the tools for the job. And that includes the most comfortable mens boots for standing all day
These Keen Utility Pittsburgh steel toe boot Features asymmetrical toe protection which protects the big toe from the little toe, so your toes will breathe and spread out freely.
They also give you more room to flex and move your feet.
Features
Nubuck leather
Anatomically engineered
Rubber sole
Contoured heel lock.
Asymmetrical toe protection
Waterproof & breathable membrane
Medium duty shoes.
Metatomical EVA footbed (removable)
Dry-lex footwear lining
Rubber outsole
Pros
Cons
A bit stiff on first wear
Verdict
The asymmetrical toe protection, anatomically engineering, snug fit, and waterproofing are some of the features that make this wide steel toe boot stand out.
In addition to free movement, your feet breathe and feel very comfortable when you wear this Keen Utility Pittsburgh steel toe boot, one of the best waterproof work boots
4. Thorogood Men's American Heritage Steel-Toe Work Boot.
Polyurethane is typically used for soles due to its high performance properties. These include better load bearing capabilities, abrasion resistance, and tear resistance.
Thorogood American heritage work steel-toe work boot is a vintage leather work boot with a Polyurethane wedge sole so you are assured of long-term service.
And with a bold contrast stitching, it's one of the most elegant shoes in our list.
Features
Polyurethane Wedge sole
Secure lacing system
Leather
Thick sole
Supportive ankle
Removable shock absorption footbed
Rubber Midsole
Composite Shank
Pros
Cons
May not be comfortable for people with wide feet.
Verdict
This is another handsome set of work boots with a thick sole, supportive ankle and a secure lacing system.
If you want to forget all your scary moments and enjoy comfort for the long-term, you may not need to look beyond these.
5. Timberland PRO Direct Attach 6″ Steel Safety Toe Waterproof Insulated Boot.
These are rugged waterproof steel toe boots built to maintain your momentum, even when you are assigned a longer shift.
With a heavy waterproofing insulation, they are fantastic for cold weather meaning you don't have to stop just because it's flooded or raining heavily.
And they are packed full of top-notch performance features including an oil resistant rubber outsole for better traction
Features
Seam-sealed waterproof leather upper
Steel safety toe
Direct-inject construction
Padded top collar
Blown-thermal plastic midsole
Mesh liner( with antimicrobial treatment )
Nylon shock diffusion plate
Thermolite® 200g insulation
Open-cell polyurethane footbed
non-marking, oil-resistant rubber outsole
Pros
Cons
Verdict
These waterproofing steel toe boots ensures that your performance will never be affected by cold weather- thanks to the excellent outsole and 200 grams warm insulation.
In summary, they do everything so well such that it's difficult to pinpoint a weakness. They fully deserve to be ranked with the best work boots on the market
6. Rocky Men's Mobilite Six Inch Steel Toe Work Boot .
Funny as it may sound, I have won steel toed boots to just make a statement..
I know that's not their main purpose but some social circumstances force me to take advantage of their tough and rugged look to tell guys "He is the Mr. no-nonsense guy!" and "you may get a kick"
Well, on a serious note, these boots are a must for anyone in an industry that uses heavy machinery.
Well, let's say your list has the following features: Steel protective toe, high-quality materials, support, waterproofing and cushioning... if that's how it reads, then, these Rocky men's MobiLite steel toe work boots are a perfect match for you!
Features
Leather
Rubber sole
lace-up design
Full grain leather
Waterproof/breathable
Wide angled toe box
High-abrasion heel counter
Pros
Cons
stitching may not hold for long without reinforcement
Verdict
These have it all- High quality materials, support, steel protective toe, water resistance and shock absorption plus more.
When you add their high-abrasion heel counter which makes sure your feet doesn't shift around as you work, you realize these are one of the most comfortable safety toe shoes
7. Timberland PRO Men's Titan 6″ Waterproof Safety-Toe Work Boot.
If you work in the service industry and work for long hours, you need a reliable, comfortable, and soft safety-toe work boots.
The Timberland PRO men's titan 6" safety-toe work boot is a standard waterproof safety work boot that is dependable, highly comfortable, and comes fully prepared to protect all the day long.
They feature low-profile outsoles, alloy safety toes, and a cement construction and have for the second year running, been voted by my editors as one of the most comfortable safety shoes
Features
Leather made (with waterproof membrane)
Contoured open-cell polyurethane footbed
Lace-up vamp
TiTAN alloy safety toes design
Polyurethane midsole
Moisture-channeling mesh liner (with anti-microbial treatment)
PRO Rubber outsole
Pros
Cons
Shoelaces are a bit cheap
They are not that durable.
Verdict
These are dependable, snug, and fully armed to protect your feet.
They are designed to make your long working days look shorter. Indeed, their high-end features such as alloy safety toes, low-profile outsoles, and cement construction motivate you to your targets well ahead of schedule.
8. Dr. Martens Men's Icon Industrial Strength Steel Toe Boot.
For some industries, you require not only the best comfortable steel toe boots but also authorities approved footwear.
That's the gap that Dr. Martens Men's industrial steel toe boot seeks to fill.
Their safety toe cap has been tested against industry-leading standards and exceeded them all.
Well, I believe the marriage between the accomplished non-slipping rubber outsole and the roomier steel toe is what wins it for this footwear.
Did I mention that they are ANSI/OSHA approved?
Features
Pros
Cons
fit a little tighter if you have a big toe
Verdict
These durable OSHA/ANSI approved steel toe boot are made for the extreme industrial conditions.
They feature, among others, heat-sealed welted construction, slip-resistant PVC outsole, and a standard woodshank
Unsurprisingly, they have been a popular pick in our most comfortable steel toe boots reviews.
Most Comfortable Steel Toe Boots For Women Standing All Day.
Now check our recommendations for the most comfortable steel toe boots for standing all day for women:
9. Caterpillar Women's Echo Waterproof Steel Toe Work Boot.
Powered by the innovative Ergo Technology, these comfortable steel toe shoes for women combine biomechanics, hardened durability, ingenuity, and Cat footwear's trademark grit to provide all day long comfort.
Their interior comfort is clearly evident from the breathable lining, sock liner, and enhanced shock absorption from the midsole.
And these womens steel toe work boots don't take chances with your safety- you have waterproof uppers, slip resistant properties and electrical hazard protection to mention but a few
Features
Pros
Cons
Verdict
Ladies working in the heaviest industrial applications love these comfortable work boots for women.
Engineered using Cat Footwear's iTechnology® construction, they offer extreme work boot durability, athletic shoe comfort, and maximum protection.
10. Timberland PRO Women's Titan Waterproof Boot.
Alloy toes are estimated to be 30-50% lighter than the traditional steel. Since they are made slightly thinner, you always get extra room from their toe box.
Among the trending lightweight titanium toe boots in our best womens work boots category is the Timberland PRO Women's Titan Waterproof Boot
These women's waterproof alloy safety toe work boots combine the famous TiTAN® safety toe and the rugged slip-resistant outsoles to the breathable, antimicrobial linings to create another creme de la crème womens work boots
. Features
Water-resistant full grain leather (with waterproof membrane)
Moisture-licking spacer mesh liner
Anti-microbial feature
Polyurethane midsole
High-rebound heel insert
Polyurethane footbed
Nylon diffusion shank
Electrical hazard
Rubber dual-density outsole
Pros
Cons
Verdict
For a variety of uses, you get lightweight and durable protection from these top-rated women's waterproof working boots.
They combine the reputable TiTAN® safety toe design with rugged anti-slip outsoles and fully breathable antimicrobial linings to deliver devoted protection all day long.
11. Caterpillar Women's Jace ST/Black Industrial Boot.
If you want to get complimented all the time, this these Very nice looking work boots will not disappoint.
I have a feeling they might carry the trophy of the most comfortable steel toe boots for women this year and this is why...
They're so comfortable, very easy to put on and remove. Then, very lightweight. And they break in within no time. Plus, they are neither big nor bulky- very much unlike other women steel toe shoes.
Overall, these very comfy fashion-conscious working woman shoes will make you very happy.
Features
Industry level Steel Toe
Standard Electrical Hazard Protection
iTechnology® Construction
Split Suede/Wool Upper
Nylon Mesh Lining
Nylex™ Sock Liner
PU Footbed
PVC Midsole
Steel Shank
Rubber Outsole
Slip Resistant Leather
Pros
Cons
They don't go well with high arches
Verdict
These stylish work boots are one of the most comfortable steel toe shoes for women.
They feature time-proven Goodyear welted construction, EVA heel cup, slip-resistant outsole, abrasion resistant properties and an industry-rated steel toe.
And they pack awesome safety features!
Conclusion
If you work where foot protection comes first, investing in the most comfortable steel toe boots for standing all day would be a great idea.
Now, Figuring out which will be the most comfortable steel toe boots for standing all day for you depends on your job and your special requirements.
That done, I have covered some of the most comfortable work boots for both men and women so you shouldn't really struggle.
It is now only a matter of taking action and reaching out for the most comfortable work boots ever, if you feel that's what suits you.
Good luck!