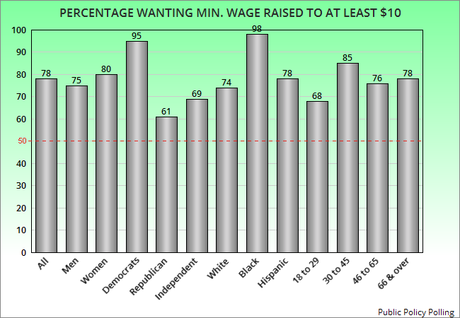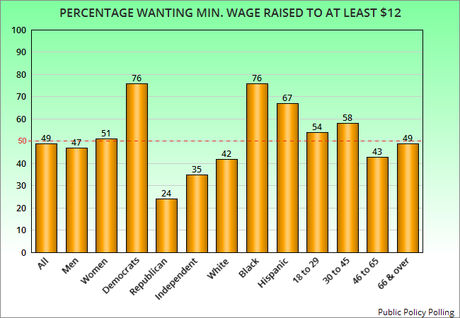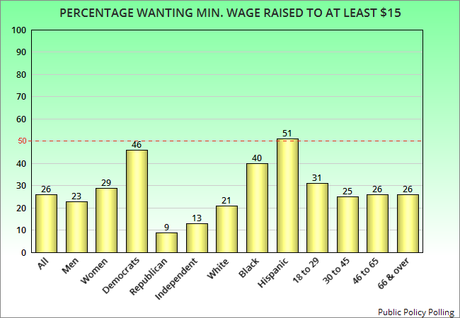 The Republicans in Congress are opposed to raising the current minimum wage of $7.25 an hour -- even though that is a poverty wage. And their presidential candidate, Donald Trump, has also gone on record as opposing it. In fact, Trump has said that workers in this country are paid too much.
Those Republicans are out-of-step with most Americans. Americans don't think anyone who is willing to work hard for 40 hours a week should not be paid a wage that leaves them in poverty. A whopping 78% of the general public supports raising the minimum wage to at least $10 an hour. And every demographic group shows majority support for that, including Republicans (61%). [see top chart]
Both Democratic candidates have come out in favor of raising the minimum wage. Bernie Sanders wants to raise it to $15 an hour. Hillary Clinton wants to leave it up to each state, but would impose a minimum wage floor of $12 an hour. Clinton's $12 an hour level has the support of only about half the population (49%), while Sanders' $15 an hour level only has the support of about a quarter of the public (26%).
It seems that most Americans would like to see the raise -- more than the Republican officials want, but less than the Democratic officials are asking for. While I would love to see the minimum wage raised to $15 an hour, I would happily settle for $10 an hour (which is supported by three-quarters of the public). But if it's raised to $10 an hour, it needs to be tied to the rate of inflation. Otherwise, it would immediately start losing its buying power, and in just a few years most minimum wage workers would again be making a poverty wage.
These charts were made from a recent Public Policy Polling survey -- done between May 6th and 9th of a random national sample of 1,222 registered voters, with a 3.2 point margin of error.